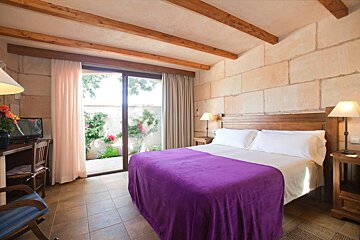 © Sa Carrotja Finca Hotel, Ses Salines
© Sa Carrotja Finca Hotel, Ses Salines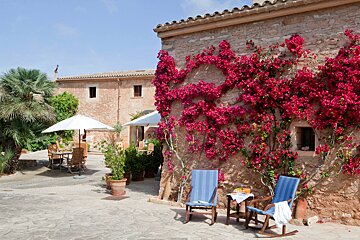 © Sa Carrotja Finca Hotel, Ses Salines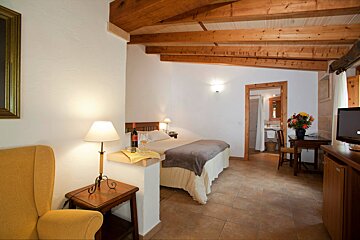 © Sa Carrotja Finca Hotel, Ses Salines
© Sa Carrotja Finca Hotel, Ses Salines
Sa Carrotja Finca Hotel, Ses Salines
Simple yet stylish finca hotel, for adults only
In the south of the island, between fields of almond and fig trees, near the village of Ses Salines and 6 km from the sea, stands the ancient stone house of Sa Carrotja, one of the oldest in the village.
It is a typical construction of the Mallorcan rural scene, dating from the 16th century, which has been completely restored. They offer with 12 rooms, all with individual terraces.
Services include laundry, as well as free bike rental. There is an outdoor pool, a lounge with fireplace, and free wifi.
Since 2008 they have been producers of their own extra virgin olive oil from their plantation of 300 ecologically cultivated olive trees, which they use when preparing breakfast and dinner.
Reviews
324 verified reviews by
"Excellent"
Good to know
"Clean accommodation facilities"
Visitor comments
"We stayed here for the first time in June this year. We were blown away by how pretty this hotel is - peaceful grounds, surrounded by nature, so many flowers! We felt so relaxed and at home during our stay here that we couldn't even be bothered to leave and go out to the beach. The hotel is adults only, so the pool area is very quiet during the day - just the sound of birds and distant farm animals, never crowded." - Trip Advisor
"The hotel is set in wonderful grounds with abundant flowers, fruit trees and olive trees. The hotel pool was peaceful with plenty of sun beds and umbrellas. There are two covered terraces which you can have breakfast and dinner. There are oranges which you can squeeze yourself for really fresh juice. What bliss to have no pressure to rush breakfast." - Trip Advisor
"This was our second stay at Sa Carrotja, and we have already booked our third! Everything was once again superb: it is impossible to find fault, as the finca delivers everything it promises at a price that remains extraordinarily reasonable. We could not recommend it more highly." - Trip Advisor
Location