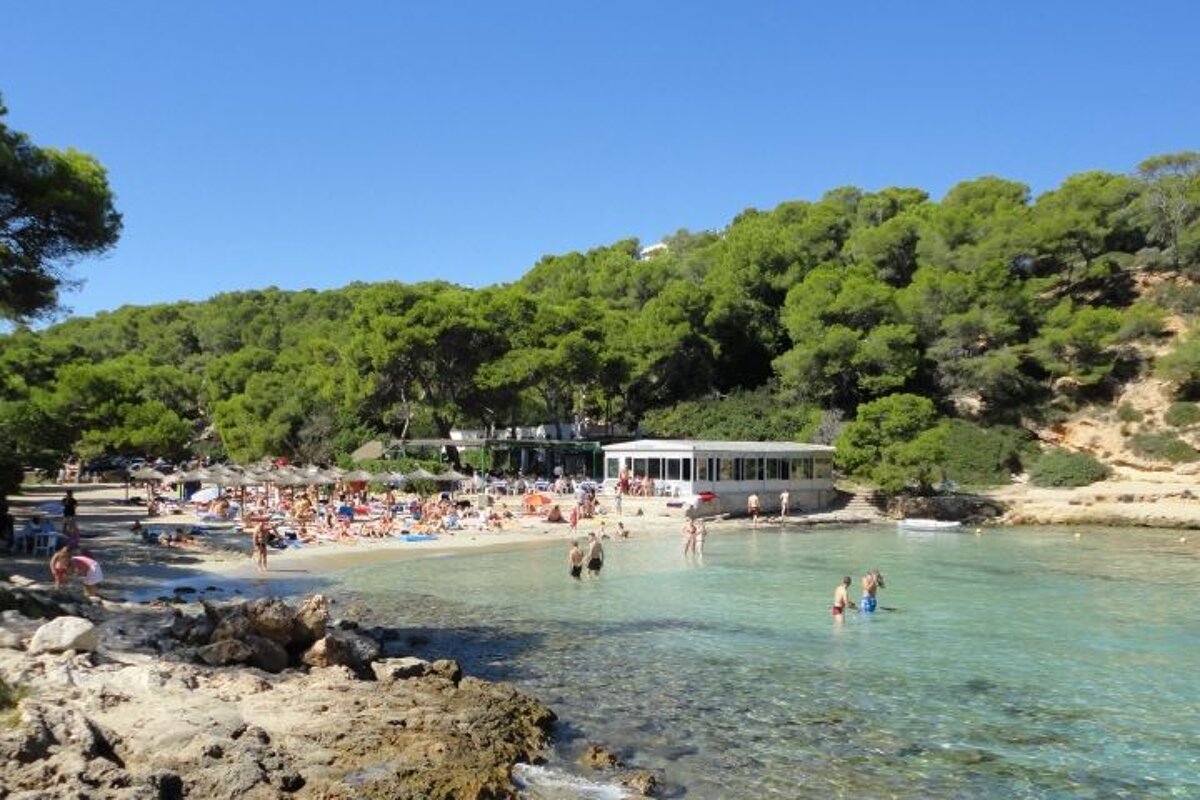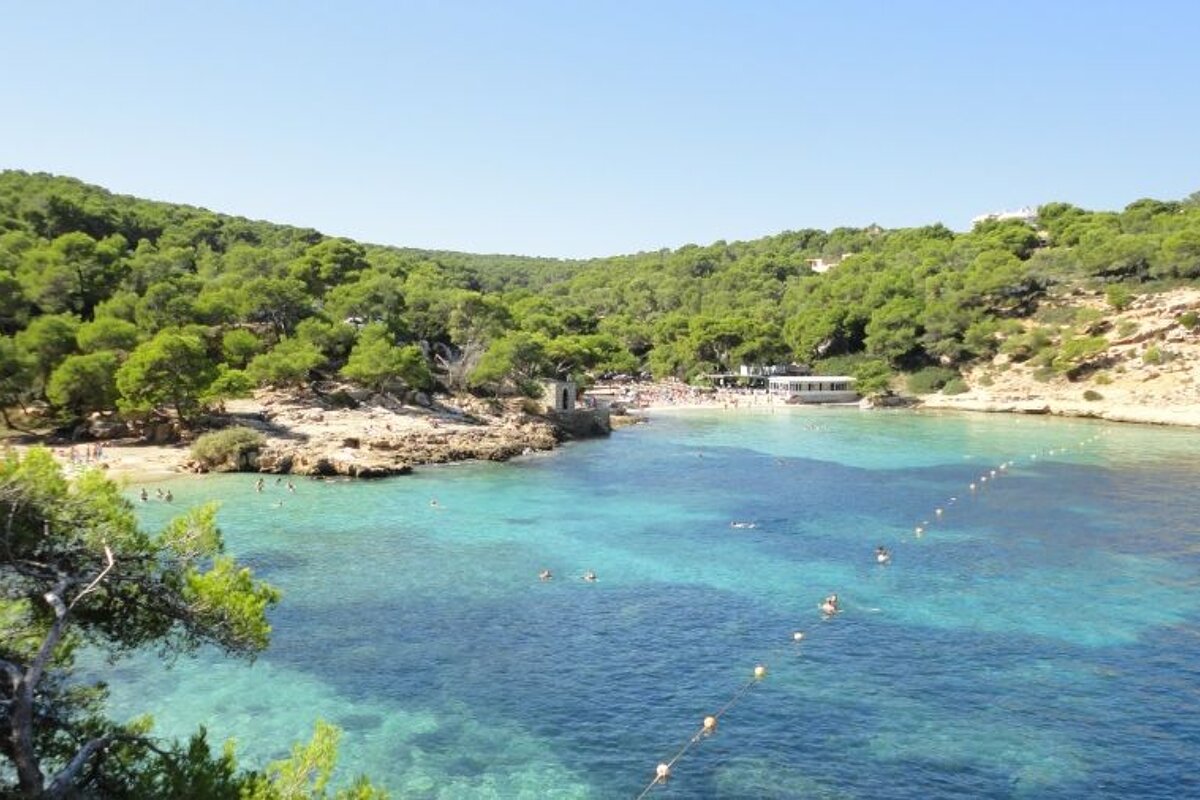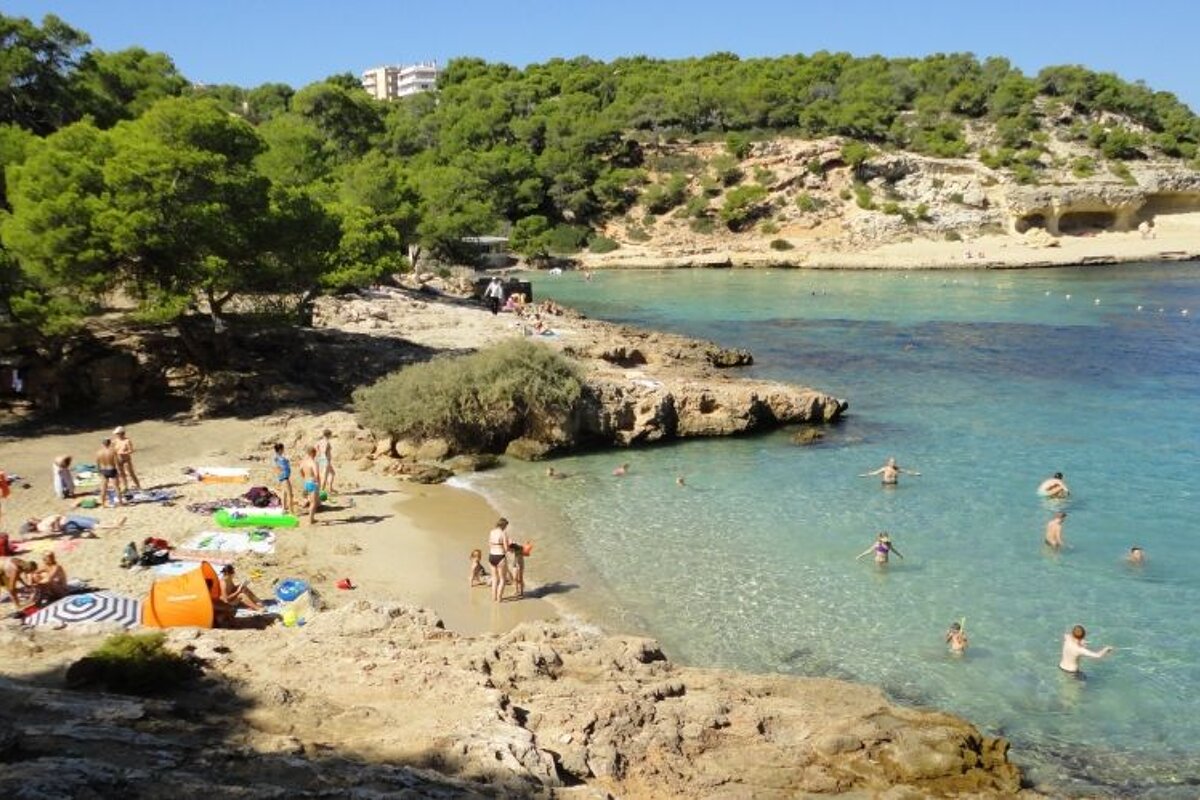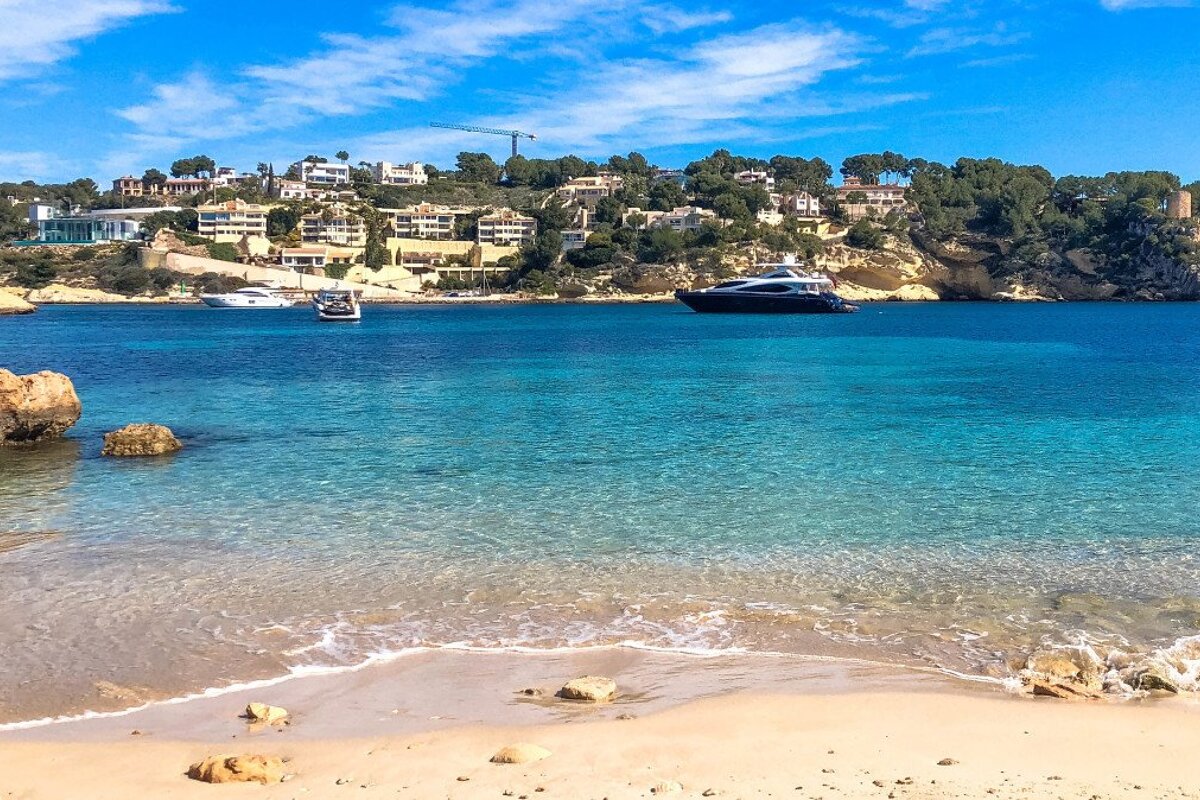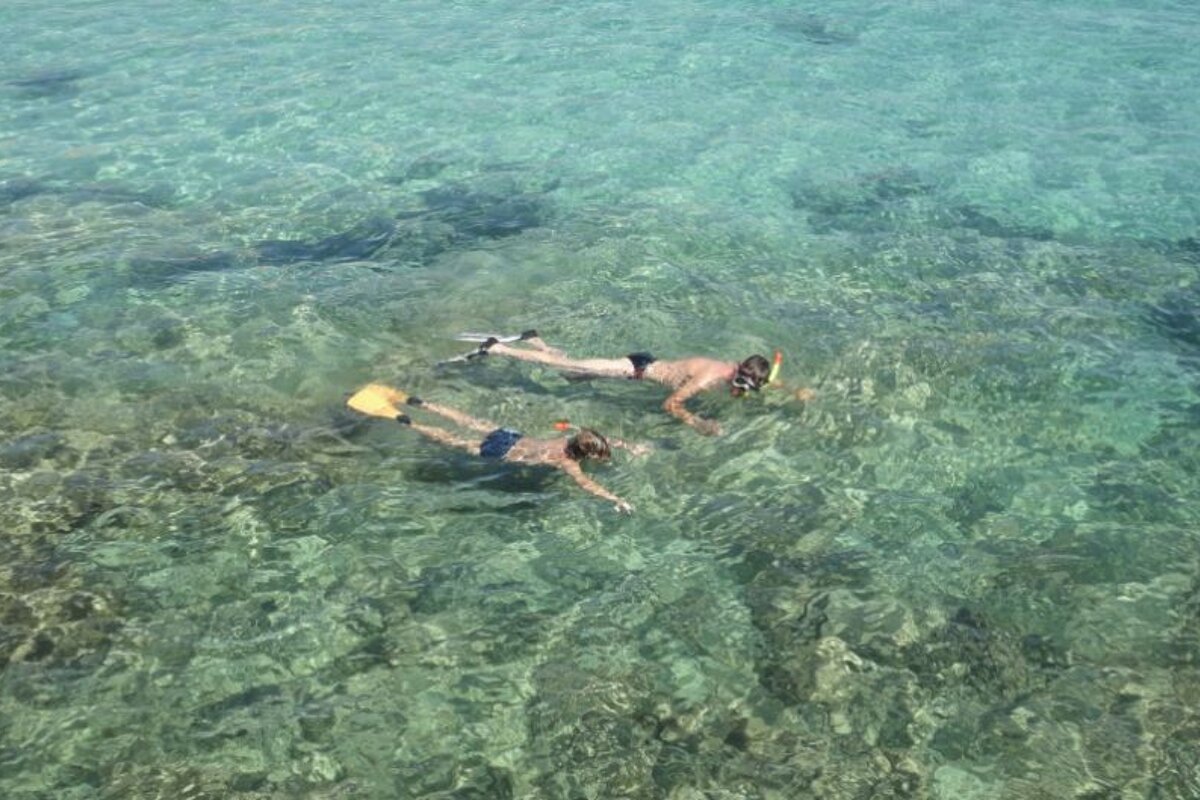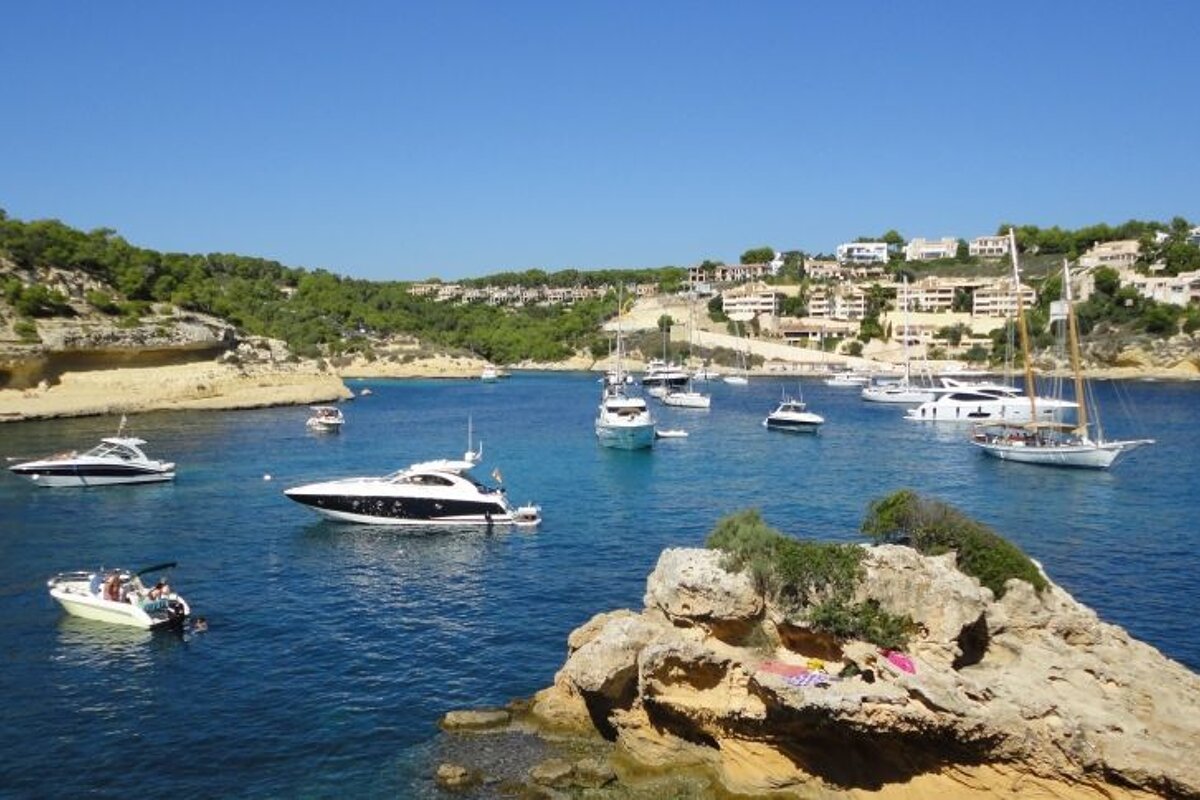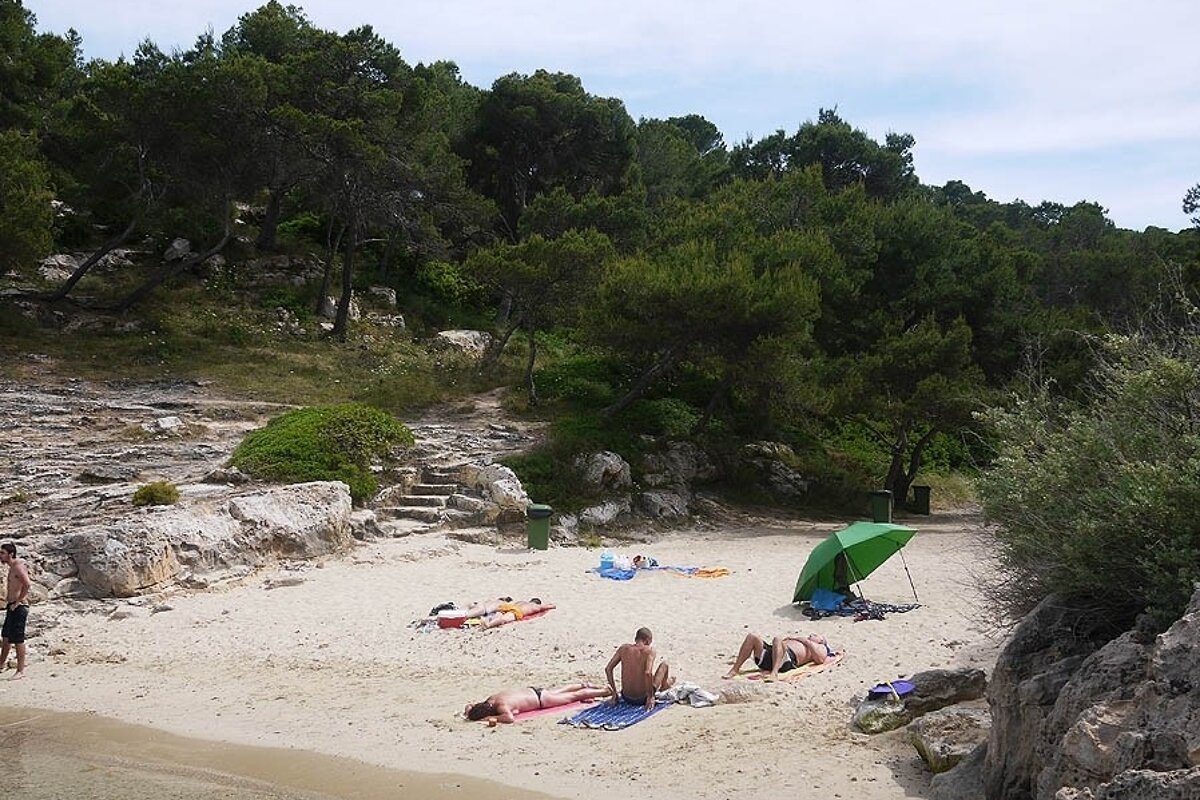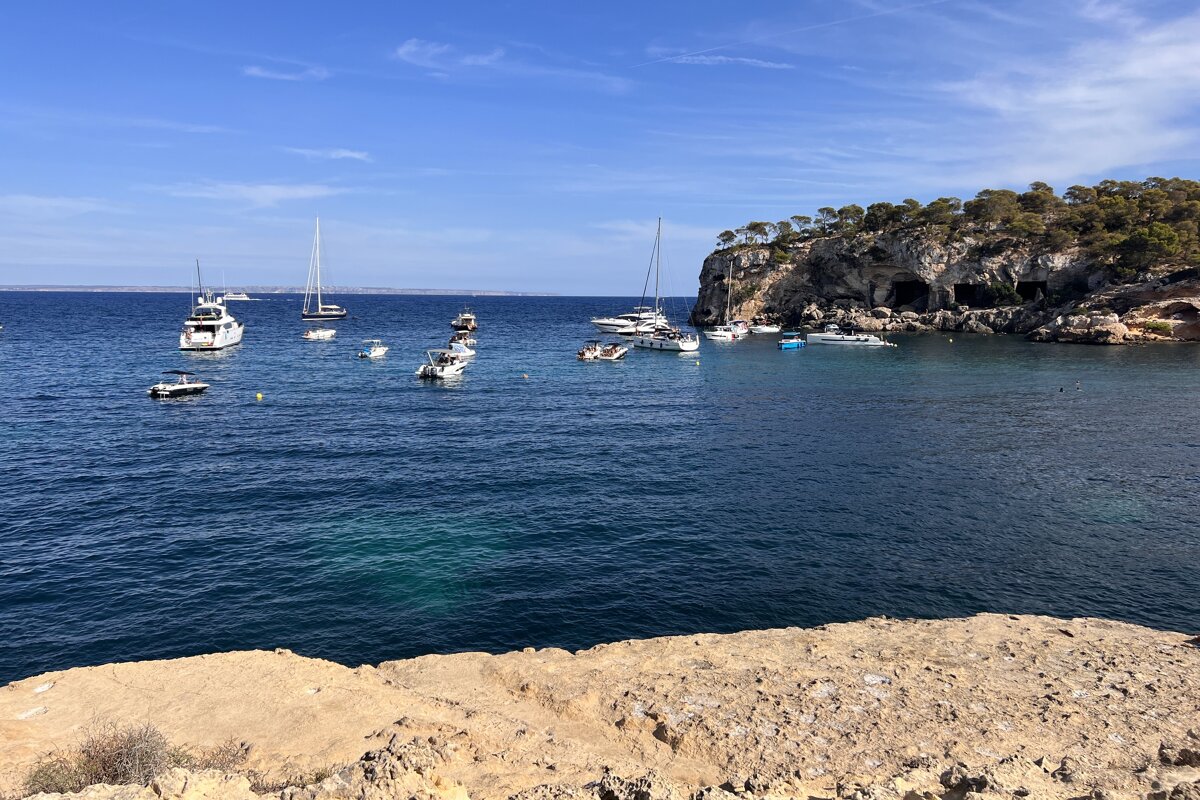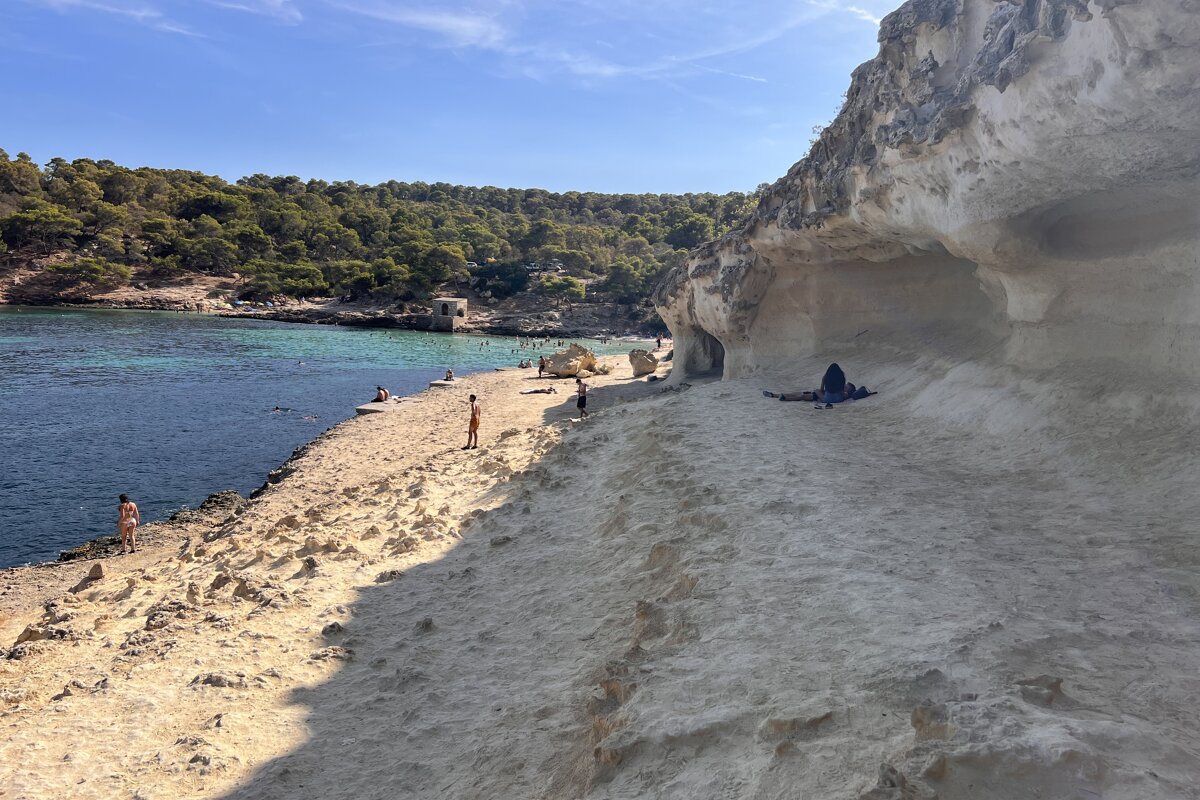 Cala Portals Vells Beach, South-West Mallorca
Remote 'three-fingered' bay, with three glorious sandy beaches surrounded by Mallorcan natural beauty
Follow a rugged track through pine wood forest to find this beautiful cove on the western tip of Palma Bay. No public transport will bring you here, so you'll need to taxi through Calvia's residential streets, or drive from Magaluf or Palma Nova before walking the last stretch to the bay. Ultimately, the best way to arrive here is on the water by boat, with a decent depth and sandy seabed, perfect for anchoring.
The summer holidays make the beach here crowded, but in the off season you'll often have the entire beach to yourself and the privacy to enjoy the golden sand, rocky cliffs and shimmering turquoise water.
The closest resorts to Portals Vells are Magaluf and Palmanova.
Watch this
Setting & Location
Three small beaches form the bay of Cala Portals Vells. The main beach area (also known as Sa Caleta) is around 30 metres long and 20 metres deep. Surrounded by luscious shady pine trees, here you'll find a lovely restaurant, shaded sun beds for hire and public toilets. Local yachts and day cruisers will often anchor in the cove and a dinghy service conveniently brings the sailors ashore to eat in the restaurant.
Mallorca's official nudist beach, El Mago, is next to and a little smaller than Sa Caleta. It's petite shore measuring 20 metres long and 5 metres deep, features lovely soft white sand and crystal-clear waters. Sun beds and parasols are available to hire here also, as well as a beach bar and restaurant for refreshments.
Hop along one cove further and you'll find Playa del Rei, boasting another little beach bar as well as having lifeguards on duty. Being the largest of the three, the bay here is approximately 30 metres long and 40 metres deep, with fine white sand, but also includes a rockier area. The transparent water maintains a depth of 1.5 metres, for over 100 metres out to sea.
Water Safety & Clarity
The gentle and lengthy incline to shallow, clear sparkling water is very safe and perfect for children, as well as having lifeguards on duty during the peak season and busy summer months.
Beach Quality
All three bays boast idyllic golden-white sand, but it's worth considering the 200m unpaved walk from the road, which means that wheelchair or stroller access is somewhat limited.
Watersports Nearby
No water activities are available to hire here, but the bay is usually full of jet skis, paddle-boards, and snorkellers from the visiting day boats able to anchor close to shore.
Directions
The beach is just 10-15 minutes beyond the larger resorts of Palma Nova and Magaluf, and a short distance from the west-bound Ma-1 from Palma. If you're driving or cycling, Portals Vells Beach can easily be accessed from the main road with plenty of signage and free parking. No tourist buses or public transport will take you directly to the beach and so you'll have to make your way from the town of Portals Vells by car, taxi or on foot.
Location