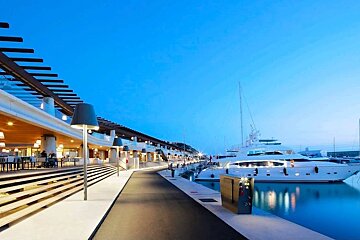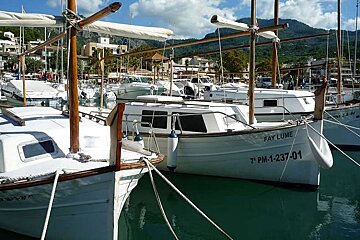 Marinas and moorings in Mallorca
Discover the top Mallorca moorings
The sailing community in Mallorca is huge, so it's only right that there should be plenty of marinas for all shapes and sizes of boats. There are berths available for your small fishing boats, right up to the growing sector of the superyacht category.
Prices for buying and renting moorings, whether for long or short term, are affected by a number of variables including but not limited to the popularity of the marina, size of the boat, time of year and even the person renting or selling it. Therefore, it is difficult to pinpoint a price of an average mooring cost to buy or rent. Rentals rates can be offered daily, weekly, monthly or yearly but as you can expect, during the summer season prices rise dramatically.
If you are looking to buy a mooring, then it's worth knowing that generally moorings in Mallorca are increasing in value each year. The market for buying and selling berths is doing well as there is a high demand for berths on the island due to the increasing popularity of the island as a home for privately owned boats.
Moorings & marinas
There are around 50 marinas all across the island of Mallorca, so the choice of places to moor is infinite. Here are some of the most popular.
Palma
The biggest port on the island is Palma, which is home to world famous marinas of Club de Mar and Real Club Nautico. The latter is famous for the organization of major sporting events such as the Copa del Rey Regatta. It has an impressive 971 moorings for sail and motor boats up to 40m long. Whilst Club de Mar, located up towards the cruise ships and the Porto Pi end of Palma, might not have the same heritage, it claims 575 berths. Its unique selling point is that it can cater for yachts between 8m and 135m in length and has a waiting dock that can accommodate vessels up to 350m. These marinas are the busiest and most popular due to their close proximity to Mallorca's capital city and their excellent club facilities.
Port Calanova
Just a couple of kilometres to the west of Palma, between the popular resorts of Cala Major and Illetes, resides Port Calanova. With 172 moorings catering for yachts up to 25m in length, this one is a little smaller than some of the other ports on this side of the island but boasts luxury hotels, restaurants and fabulous beaches all within short walking distance. This marina has recently had a facelift with plans for enlarging its facilities.
Playa de Palma
Just to the east of Palma, within close proximity to the touristy holiday resort of Playa de Palma resides Club Náutico El Arenal. This is a significantly sized port with 667 moorings for boats of a maximum length of 25m. This marina has all the facilities you might need for a longer stay, and it also boasts a long stretch of sandy beach, along with a wide range of restaurants, bars and nightlife.
Puerto Portals
The exclusive marina of Puerto Portals is just 10km from Palma and is known as the 'millionaires' marina'. Being one of the most established ports on the west coast, it has plenty of luxury restaurants and designer shops which are open all year round. There are 639 berths for yachts up to 60m in length. Being a very popular marina, it's best to organize your mooring well in advance.
Port Adriano
Between Puerto Portals and Santa Ponça lies the newly developed luxury marina of Port Adriano, famously designed by Philippe Starck. This port is especially deep so as to accommodate some of the larger superyachts with 482 mooring for boats up to 80m long. Port Adriano also hosts some of the island's most exclusive restaurants and shopping along with some exciting year-round events.
Santa Ponça
To the north of Port Adriano stands the sheltered marina of Santa Ponça, which is surrounded by pine trees and known as one of the prettiest harbours on the island. Santa Ponça has a modest 522 berths accommodating yachts up to 20m long and boasts easy access to some pretty little coves on the south-west coast of the island. The town of Santa Ponça has been a popular destination for holidaymakers for a number of years, which means it is more than accommodating once on dry land.
Port d'Andratx
Port d'Andratx, just a little further west from Santa Ponça, is one of the loveliest natural harbours in Mallorca still retaining a fishing port feel to the place. The Club de Vela Marina has moorings for around 500 boats for up to 36m in length and a sailing club with first class facilities. On the other side of the port, you will find waterside seafood restaurants and a few boutique shops which have a fantastic atmosphere in the summer months.
Port de Sóller
Located at the foot of the Serra de Tramuntana mountains, Marina Tramontana in Port de Sóller possesses an impressive mountain backdrop as well as views of a fabulous horseshoe bay. The marina is the perfect haven for smaller yachts up to 15m in length and can accommodate up to 465 vessels. The port side town is overflowing with traditional Mallorcan charm and is home to some fantastic restaurants, cafes and hotels.
Port de Pollença
In Port de Pollença, there are long stretches of sandy beaches either side of the port, along with restaurants and shops to cater for a wide range of people in the town centre. This coastal village is a popular place to moor for those who are interested in being close to Cap de Formentor and keen to explore the pretty little beaches in the north of the island. Real Club Nautico Port de Pollença offers 375 moorings for yachts up to 25m in length.
Port d'Alcúdia
A little further around to the north-east of Mallorca dwells Alcúdiamar Marina which is equally equipped in its offering of yacht services and hospitality services thanks to Port d'Alcúdia beach side resort and the historic town of Alcúdia being nearby. It has 744 moorings for boats up to 30m with a commercial port.
Porto Cristo
Porto Cristo is a well-established small tourist resort with a sufficient number of restaurants, bars and shops to keep visitors happy. Club Náutico Porto Cristo has 213 moorings for boats up to 20m long and a selection of berths allocated for temporary moorings, perfect for a day trip to Porto Cristo.
Portopetro
Portopetro is a tranquil fishing port and village located in the area of Santanyí, on the south-east coast of the island. Just down the road from Cala d'Or, it has 238 moorings for boats with a maximum length of 12m. Quieter than many other ports on the island, there is an authentic Spanish feel to the place but still a good selection of bars and restaurants on offer.
Cala d'Or
The most prominent marina here is the Puerto Deportivo Marina de Cala d´Or which has a fantastic atmosphere in the summer months thanks to the many restaurants and bars that line the moorings. It has 563 berths for boats up to 25m long and is known for its appealing prices for moorings in comparison to other ports of similar size on the island.