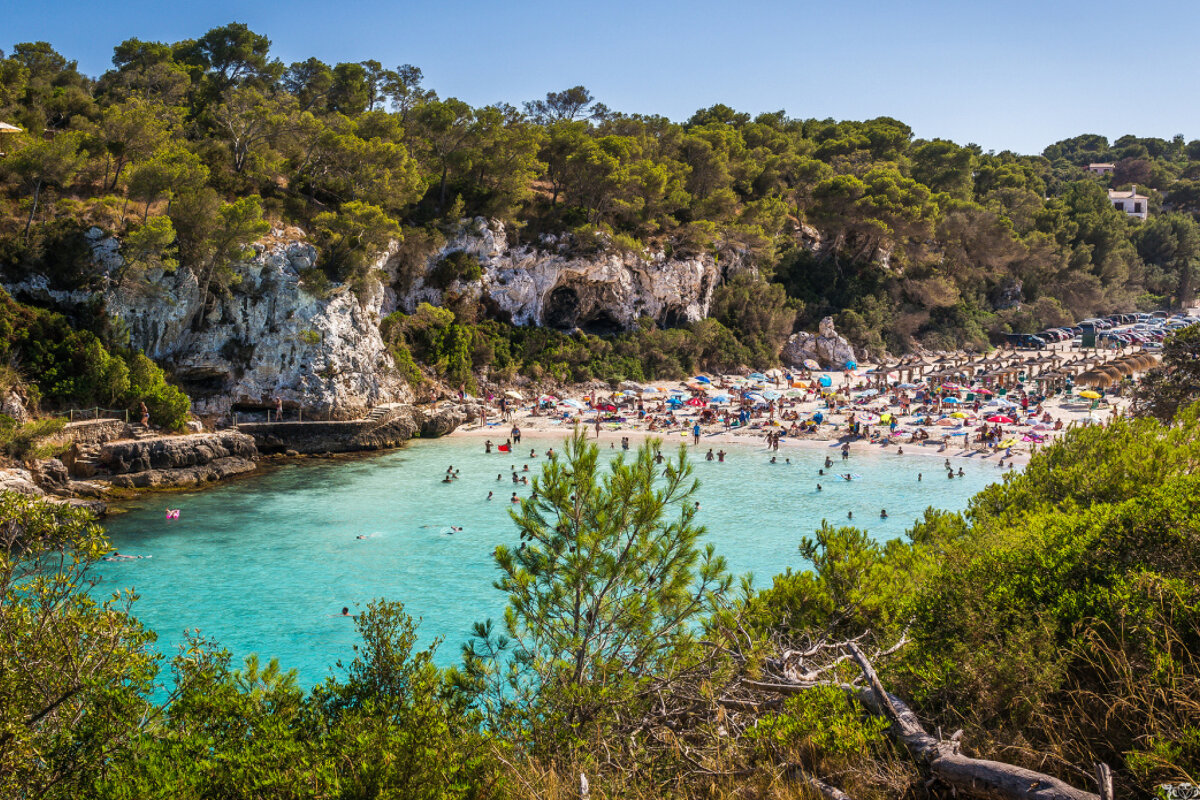 Cala Llombards Beach, South-East Mallorca
A long and thin stretch of white sand on the south east coast of Mallorca
Unbeknown to most foreigners, this super beach is mainly visited by those who live or rent in the surrounding area, making it somewhat of a local delicacy away from hoards of tourists.
Rocky outcrops board the beach's edges offering some worthy diving territory and snorkelling exploration. The depth of the bay's inlet provides lengthy shallow waters perfect for families with little ones. It's a lovely place to take a swim, go for a paddle, or simply float around on your lilo.
There are outdoor showers and public toilets, as well as sunbeds and parasols available to rent.
Restaurants
With limited commercial facilities directly on the beach itself, there are no bars or restaurants directly on the sand but it's a perfect place for a picnic. Near to the small village of Es Llombards, there is a small residential area near the beach where you can find a few restaurants, cafes and convenience stores within walking distance of the beach with local Spanish cuisine.
Nightlife
You won't find any nightlife here, but if you're looking for some tapas, a cold beer and a bit of atmosphere, the town of Santanyi is a 10 minute drive from the beach and Cala d'Or is your nearest party scene, just 8km away or 15 minutes drive.
Hotels
You'll mainly find rental accommodation or residential properties with dreamy sea views here. There are no beachfront hotels here which only adds to the exclusive and secluded feel.
Setting & Location
Often described as an idyllic hidden gem, this beach makes an ideal destination for those seeking rest and respite on peaceful sandy shores. Cala Llombards remains relatively unspoilt and a great place to soak up some of Mallorca's natural south-east coastline. A small area of just 55m long but stretching back nearly 150m towards pine trees and bushes, its cone shaped bay is surrounded by steep cliffs and rocky areas as well as pine trees and shrubs. You can see a few fisherman's cottages in the surrounding greenery which only adds to its charm.
Water Safety & Clarity
The waters here are clear, turquoise and shallow with a gentle sloping seabed and lacking in strong currents, all making it a good choice of beach for families with small children or less adventurous swimmers. Lifeguards are on duty during the summer months.
Beach Quality
The fine golden sand stretches far back into the narrow cove, allowing plenty of area for sunbathing.
Watersports Nearby
Aside from a refreshing dip in the cool turquoise waters, there are plenty of snorkelling opportunities along the rock shelves surrounding this cove.
Directions
Follow the MA-6100 out of Santanyí, and at the roundabout take the exit signposted to Cala Llombards.