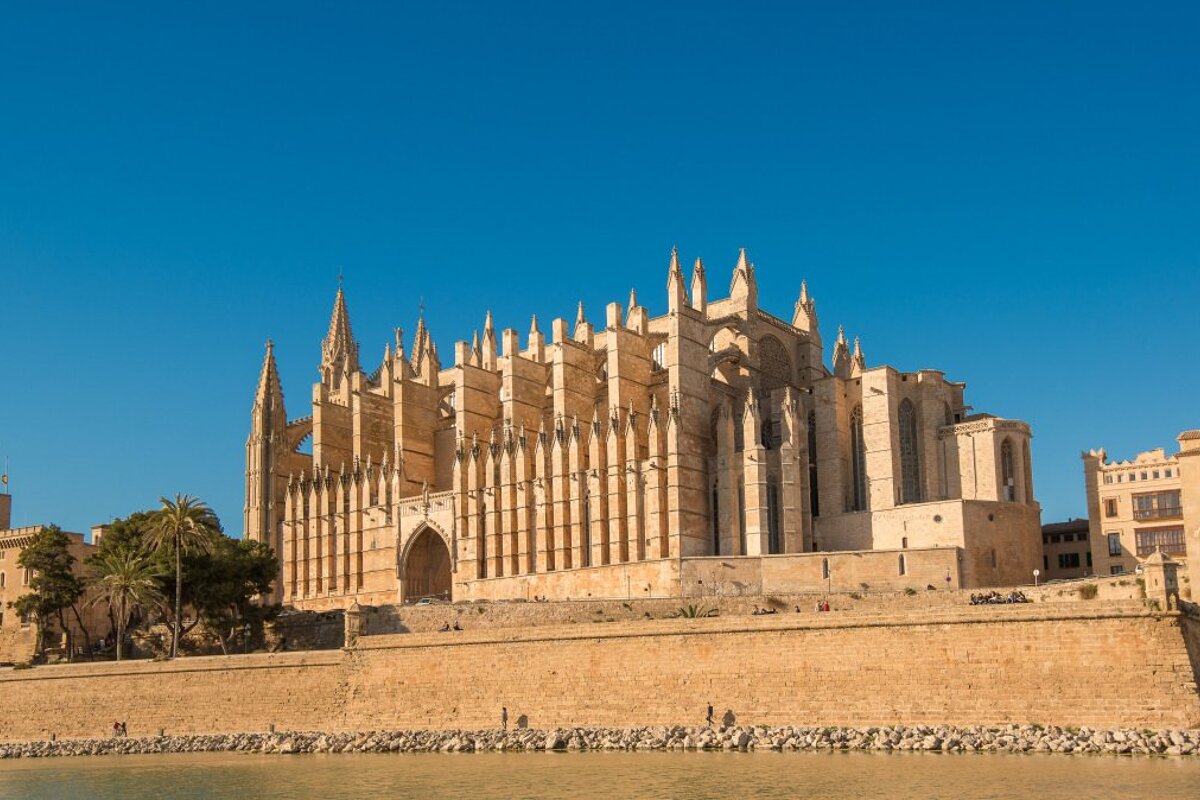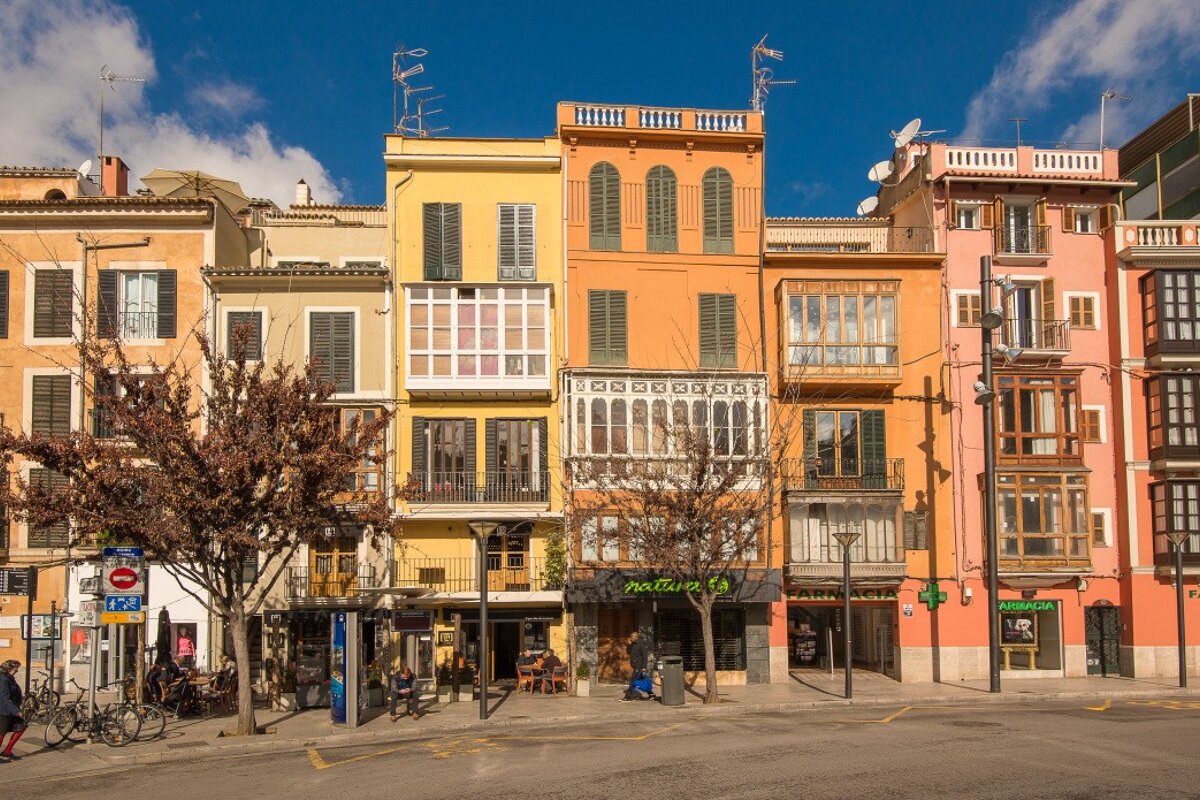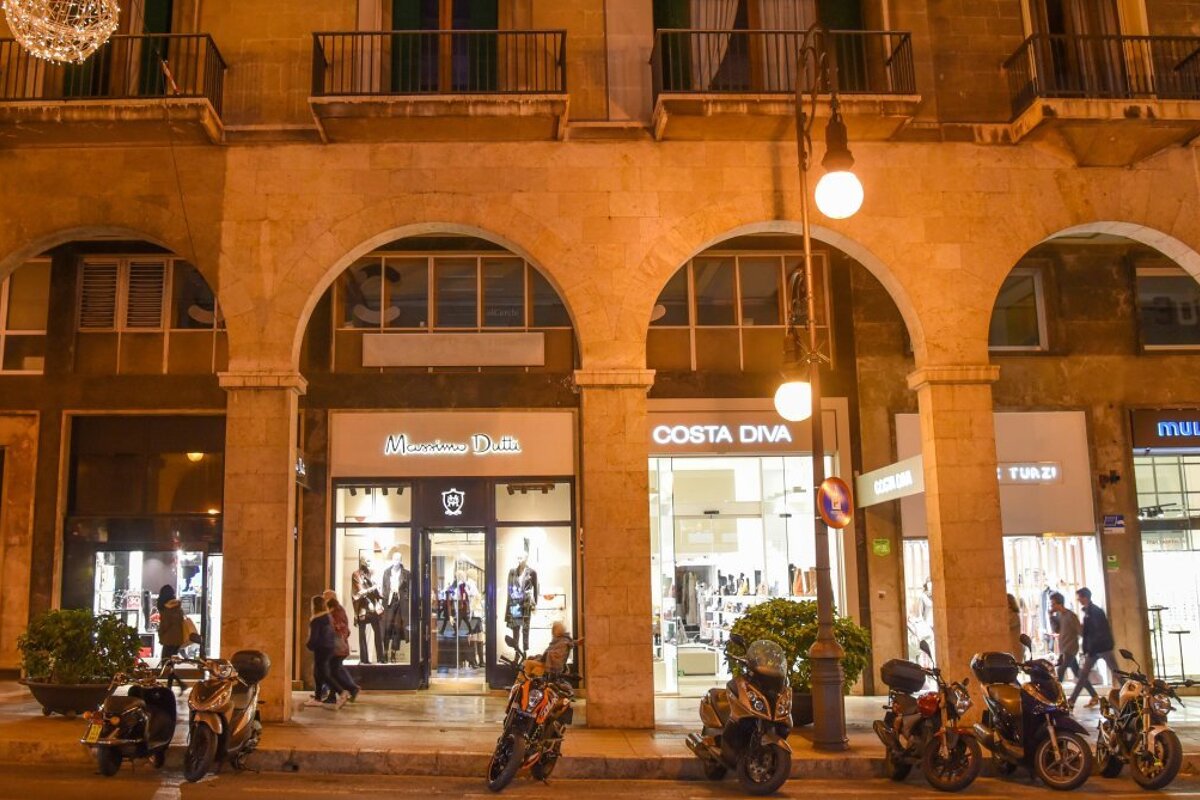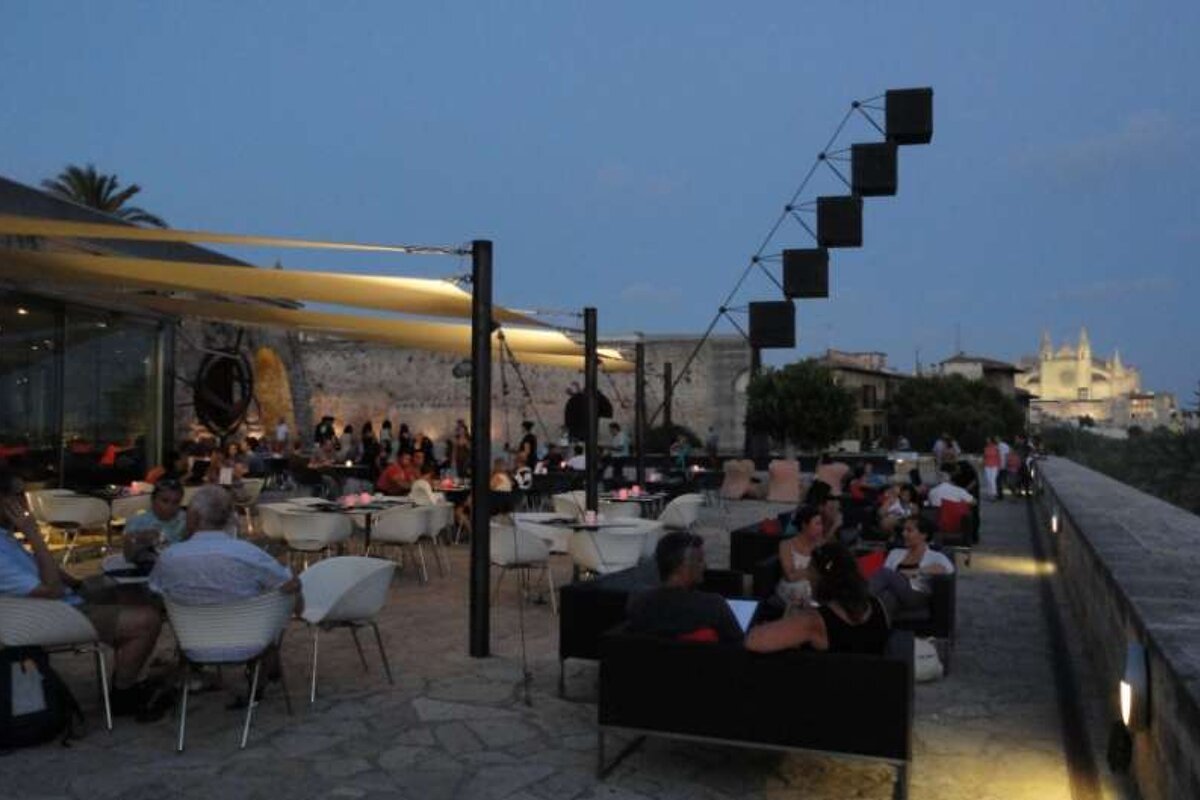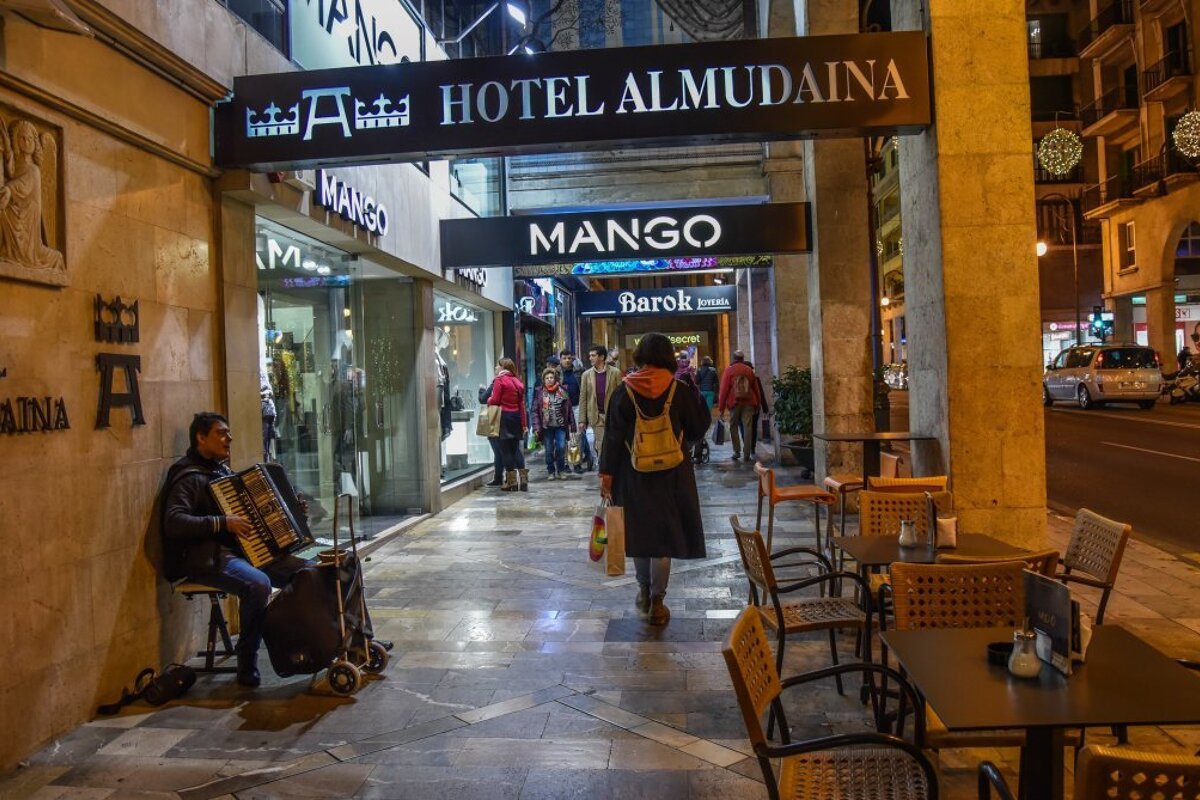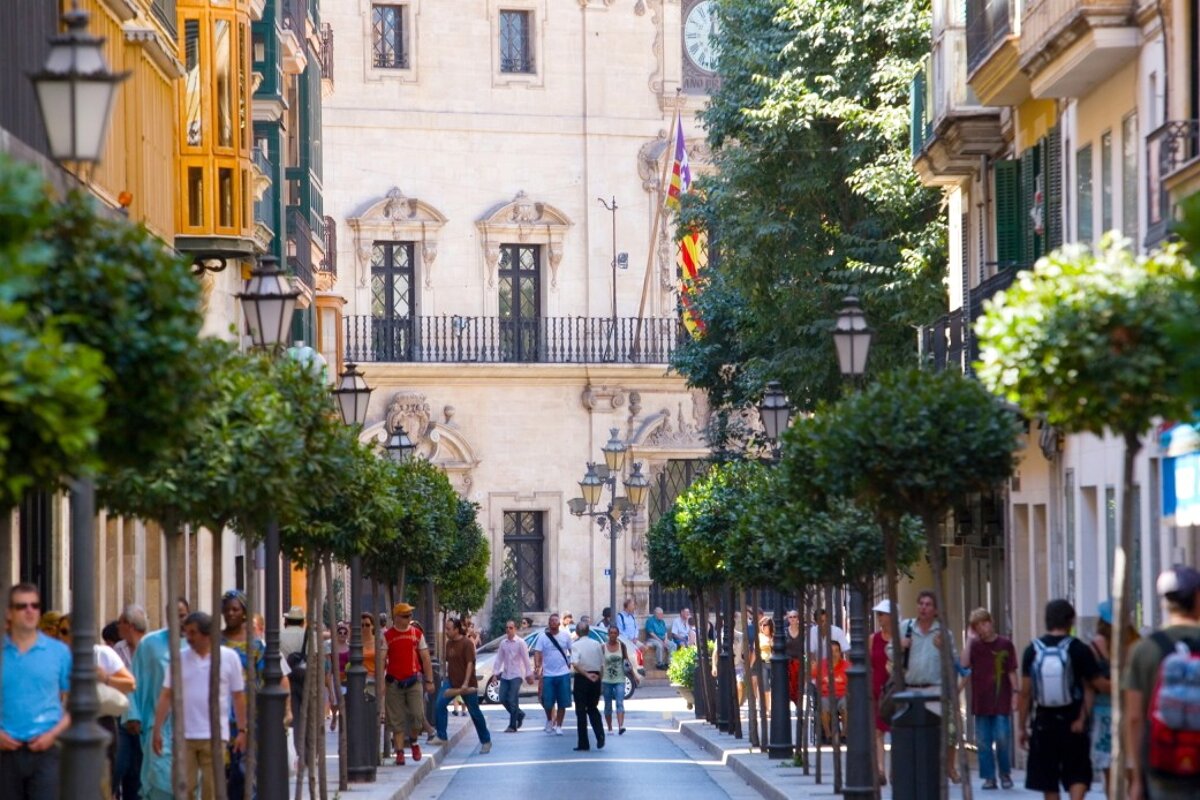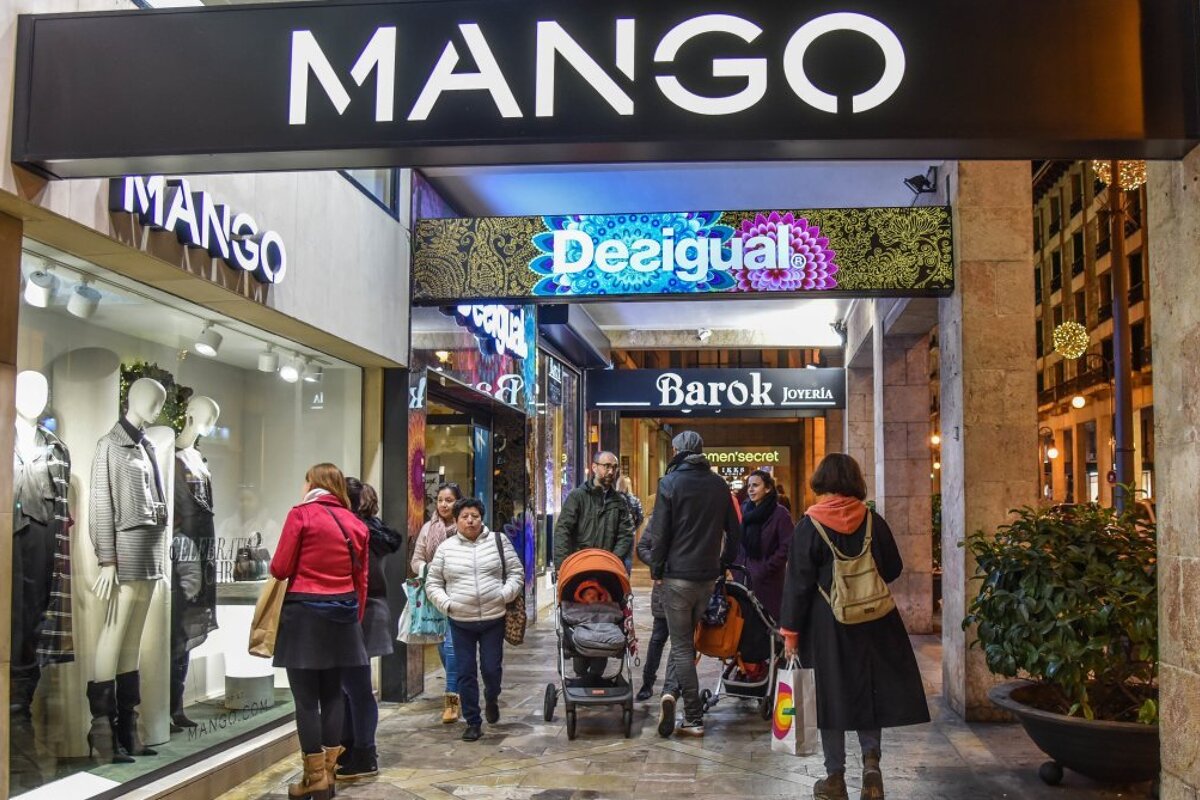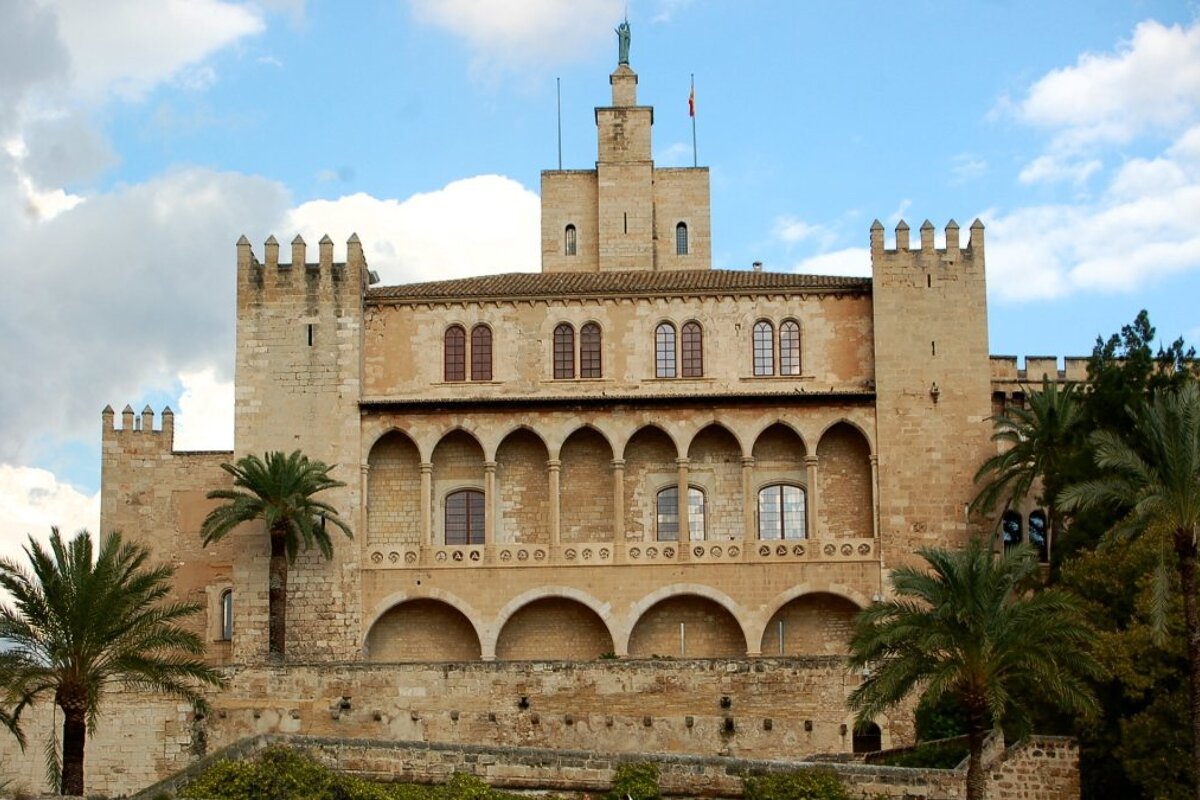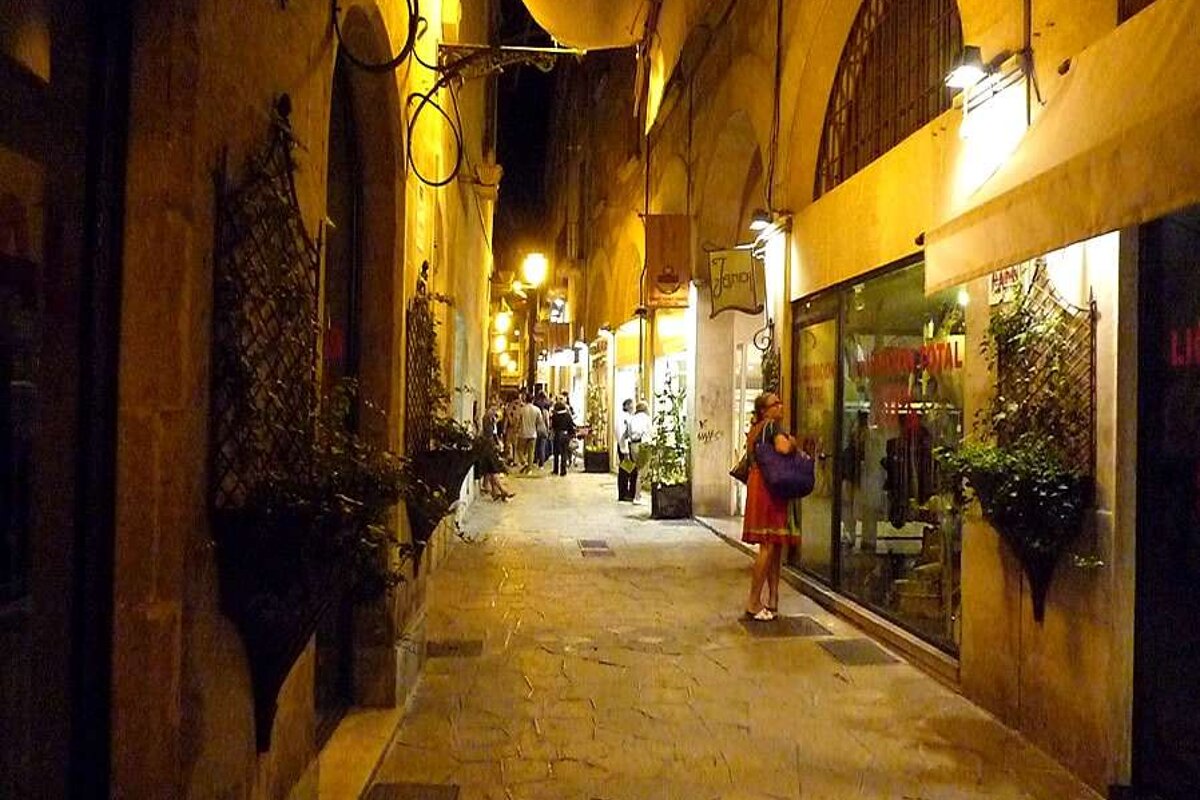 About Palma de Mallorca
Visiting Palma de Mallorca
Palma is Mallorca's vibrant capital, stylish and intimate, yet bursting with life. Half of the island's population dwells in this city, lively all year round with luxury hotels, trendy restaurants, cafes, shops and nightlife as well as a thriving art scene. It's often compared to Barcelona and, being within a 15-minute taxi ride from the airport, it makes for the perfect city break.
Located in the south of the island, Palma looks out over the shimmering Mediterranean sea (take a look at our webcam to see it in real time). Whilst there are many enchanting parts of the city, the main attractions and shops are situated around the massive Gothic cathedral down by the seafront. This area, known as Palma's old town, is full of ancient passages, historic monuments and magnificent architecture. Here you will find no shortage of sights or refreshment stops within its many pedestrianised lanes, quirky cafes, galleries, and boutique shops. Thanks to these attractions all being packed within a square kilometre, the old town is easy to explore.
The city boasts an enormous harbour which begins in front of the cathedral and borders the west. The cyclist and pedestrian-friendly promenade stretches all the way to the ferry port and cruise terminal (which is located about 3.5km from the old town), making it perfect for a stroll.
History & Culture in Palma de Mallorca
As an island, Mallorca has been subject to numerous invasions and conquests throughout its history. Palma was known to the Arabs as Medina Mayurqa (902 to 1229), and to Mallorcans thereafter simply as Ciutat (City). But the city was in fact named after the Roman city of Palmaria (founded around 120 BC), which still exists a metre or two beneath the ground; inhabitants of houses near the cathedral are still discovering Roman remains every once in a while.
Palma's current image owes much to the last two hundred years. The two iconic roads of Passeig des Born and Las Ramblas were built in the 19th century on a dried-up river bed. The defensive city walls which once surrounded the city were pulled down to create the ring road of Las Avingudas and the waterfront highway and promenade Passeig Maritim were only reclaimed from the sea in the 1950s.
Sights & Attractions in Palma de Mallorca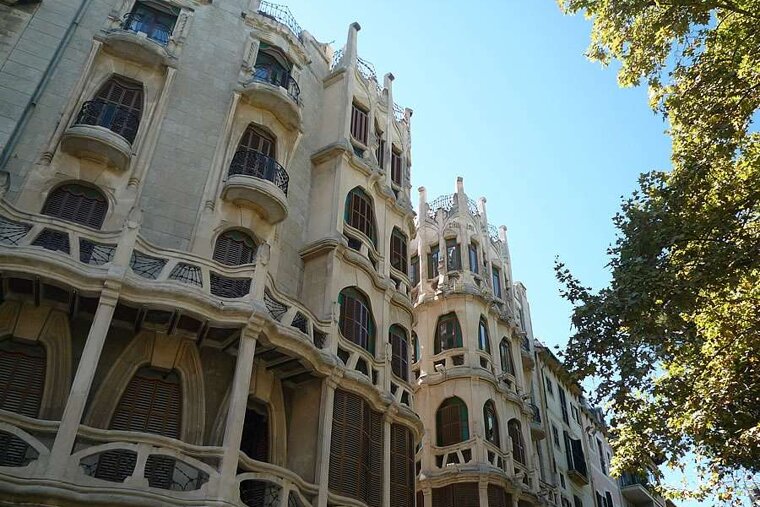 Palma's multicultural history is reflected in the variety of architecture on display in the city. Visitors tend to spend most of their time in the old town, just wandering through the streets and absorbing the architecture whilst browsing the plentiful shops. For those who prefer a little more structure to their visit, the tourist office arranges guided tours of the city throughout the year in several languages, most prevalent during the summer. Check out our selection of Tours & Guides for a range of tours on offer, or use one of our City Walks as a guide.
Medieval buildings
Palma's most iconic building is its Gothic cathedral, La Seu; built on the site of a mosque which in turn was once a Roman temple, it rises out of the city walls which used to mark the edge of the sea. Next to the cathedral is L'Almudaina, a 13th-century palace with splendid gardens. It's worth a little walk behind these magnificent buildings, as here you will find the old Arab quarter, with its labyrinth of narrow streets (be careful not to get lost!). To the west of Palma, on top of a hill, sits Bellver Castle, a unique round castle from the 14th century with some of the best views in the city.
The Arab Quarter
This Arab quarter contains many of Palma's hidden treasures, including little museums, charming courtyards and unique architecture. There are numerous exhibitions dedicated to the history of Mallorca, religious artefacts, or antique toys. Behind the Arab quarter is the renowned Plaça Cort which embodies Palma Town Hall and the legendary old olive tree. This ancient tree is a masterpiece in itself, it's believed to be about 800 years old and is one of the city's most admired landmarks.
Modernist architecture
You can't help but notice the modernist architecture in Palma, this is all thanks to Gaudi's influence when he was on the island to oversee restoration works to the cathedral. The best known is the Fundació La Caixa, designed by the Catalan architect Lluis Domenech i Montaner, it was the building that began the craze for Modernist (Art Nouveau) architecture in the city. There are plenty of other examples in the old town, just take a stroll around, look upwards and absorb the sights.
Contemporary art
If it's arts and culture that you're interested in, then Palma will not disappoint. The excellent Es Baluard Museum of Contemporary Art is housed in the old fortress and is well worth a visit, the restaurant on the terrace is critically acclaimed too. The Spanish artist Joan Miró spent the best part of 30 years living on Mallorca and there is a foundation devoted to his works just to the west of Palma. There are also several other art galleries featuring Spanish artists and contemporary art.
A little tip: if you are planning on doing quite a bit of sightseeing, then it is worth buying a 'Palma Pass'. This is a smart card that you can pre-purchase at the tourist offices and provides access to museums and tourist attractions, permits free public transport and even gives you a discount on selected activities, restaurants and shops. You can buy cards for various durations and special family passes are also available.
Beaches in Palma de Mallorca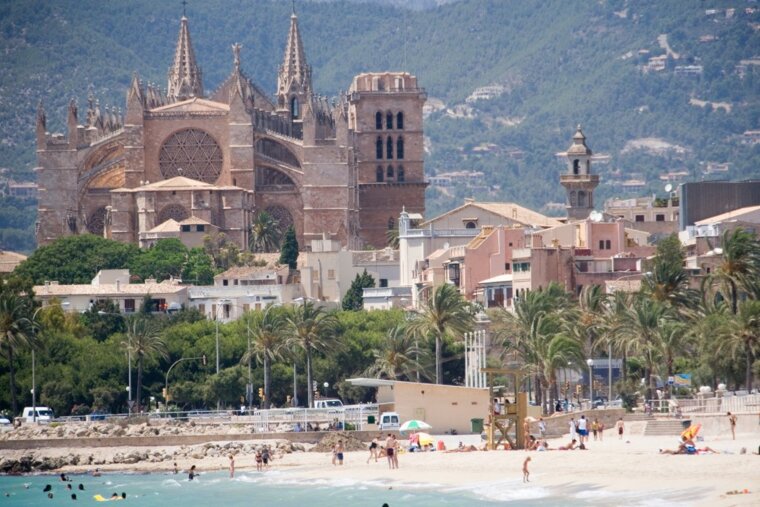 Palma has its very own urban beach, just follow the cycle path and promenade from the city's port eastbound, once you pass the front of the cathedral, it's a further 15-minute walk on foot.
East of Palma
Those seeking more tranquil beaches, there are a few to name in the surrounding areas of the city. The cute little beach in Portixol, which is about 3km east of the city centre, can be reached by car, bike or even foot and is lined with bars and restaurants. This area is a great lunch spot for those seeking a little bit of quiet away from the city centre. Much further to the east, near the airport, you'll find Playa de Palma. This should not be confused with the city of Palma! Playa de Palma is a purpose-built beach resort about 10km away. It has a long beach and is a popular resort for package holidays and kite surfers. Of course, there are regular buses between the beach and Palma, so it's easy to explore one whilst staying in the other.
West of Palma
On the other side of Palma, the neighbouring Cala Major and Illetas boast some of the most beautiful beaches on the south-west coast of Mallorca. Although there is limited parking in these areas, the beaches are accessible with the bus number 3 from Plaça d'Espanya stopping off at various points in the city before getting to Illetas, or a short 10-minute taxi ride.
Events in Palma de Mallorca
Palma is certainly a city packed full of fun events whatever the time of year. Let's kick off with the fiestas and fairs because they are some of the most spectacular events you could attend. Palma knows how to celebrate and bring people together, and boy do you get to know the real city when it hosts one of its fiestas!
Traditional fiestas
Apart from the usual traditional festivals celebrated in Spain, you really should try to get involved in the city's two main fiestas: Sant Sebastiá which is held in January and Sant Joan that takes place in June. Others to watch are the Three Kings Parade on the eve of the Epiphany (5th of January) and Sa Rua, Mallorca's very own carnival in February.
Sant Sebastian is Palma's patron saint and the city comes out in force to celebrate. You can expect street parties with BBQs and music concerts, followed by parades, fireworks and a Correfoc (devil fire running) in the lead up to the more formal proceedings taking place on the actual saint's day of the 20th January, a public holiday in Palma.
Sant Joan is celebrated on the 24th June as part of the summer solstice but, again, it's the evening before that sees the biggest party. The infamous 'Nit de Foc', or Night of Fire is held on the night of the 23rd June and sees bonfires lit throughout the city and the crazy 'fire run' where locals dress as demons and devils and run through the streets bearing torches. Everyone eventually gathers in the Parc de la Mar for concerts, more bonfires, firecrackers and an impressive fireworks display.
Cultural events
Art lovers should attend Nit de l'Art in September when the art galleries and restaurants display art to the public with canapes and wine. There are a couple of grand theatres in the city which host annual opera and ballet festivals, their programmes are speckled with musicals, concerts and other 'spectacles'. Look out for details on the Bellver Castle Music Festival, a popular occasion in the summer months. There are also several jazz clubs in La Llonja, and other live music venues (bars) can be found throughout Palma.
Gastronomic events
For the foodies, the Spanish love of food is reflected in gastronomic events throughout the year. Every Tuesday La Ruta Martiana takes place in Palma's old town. Bars offer their patrons a small tapa or pintxo plus a caña of beer for a modest 2-3€. It's a great way to discover authentic Spanish bars and cuisine away from the touristy areas of the city. On a larger scale, be sure to check out the TaPalma event. These tapas routes at the end of October are great for encouraging people to explore the more hidden bars and restaurants of Palma, each establishment serving unique quality tapas and wines for a reduced fee. Participating bars and restaurants are marked on a handy map of the area which you can pick up in bars and cafes.
Sporting events
Much like the rest of the island, Palma has its fair share of sporting events. The city has its own marathon in October, as well as a range of cycling events, and is a renowned hub for numerous sailing regattas in the Mediterranean, not to mention it has its own International Boat Show held on the first May bank holiday weekend. Football fanatics, we promise a Spanish football game atmosphere is worth sampling... there isn't anything quite like it! Mallorca has its own football team that normally plays in Spain's top division. Their stadium is on the outskirts of Palma and tickets are relatively easy to come by.
Things to Do in Palma de Mallorca
Other than the historical sights and attractions, there are plenty of activities to do in the city.
Shopping
Palma's shopping is a must. Top areas include Passeig des Born, Avinguda Jaume III and the pedestrianised streets surrounding Plaça Major. Here you'll find Spanish high-street favourites Zara, Massimo Dutti and Uterqüe alongside international designer labels Hugo Boss, Luis Vuitton and even Mulberry. But the boutique shopping, particularly the shoe shops, are what makes Palma stand out. Make sure you sample a couple of interior design shops dotted around the city too, they are inspiring to say the very least. And, as far as department stores go, El Corte Inglés will provide you with everything you could ever need.
Boat trips & yacht charters
With its large marina, Palma is the starting point for a number of boat trips and yacht charters around the island. They are great for large groups or families who want to explore the beautiful beaches and bays of their own accord. The slightly cheaper option is a half day or full day trip around the Bay of Palma, extremely popular among visitors who want to take to the water in the summer months. Try to book in advance rather than just turning up on the day to avoid disappointment.
Sports
If sport is your passion, there are several golf courses within a 10-minute drive of Palma and fantastic clay tennis courts in the district of Santa Catalina.
Tours
If you are keen to explore Palma but walking isn't your thing, you can hire bicycles, scooters and Segways to get around the city. Fancy getting away from the hustle and bustle of the city centre for the day? Then hiring bikes and taking a jaunt along the cycle path from Palma all the way to S'Arenal is an absolute must. This cycle route is doable for even the most novice cyclists, but prepare yourself for it to be busy in peak season. There are numerous cycle hire shops to be found in Palma city centre and along the Paseo Marítimo for a reasonable price. It's a great way to see the coastline of Palma and there are plenty of opportunities to stop off at some of its seaside restaurants, cafes and even a beach club or two on the way. Portixol and Molinar are great areas for a spot of lunch, so be sure to schedule a meal into your day.
Rainy day activities
If for the unlikely reason it's raining when you visit this beautiful island, have no fear there are things to do in and around Palma. If museums and art galleries aren't your things, then there are also indoor shopping centres within the vicinity of the city centre. Alternatively, head to the east of Palma for the Aquarium. Highly recommended!
Dining in Palma de Mallorca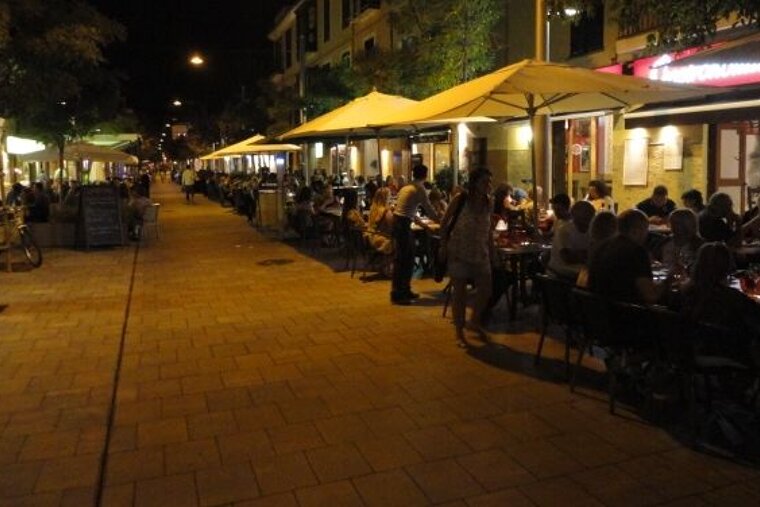 Palma has an infinite choice of restaurants, expect a range of international cuisines for all budgets.
Traditional eateries
Within the old town, you'll find endless traditional Spanish and Mallorcan eateries, particularly in the area of La Llonja. However, there are places dotted all throughout the centre and it's worth exploring back streets and taking a look at the menus posted outside the restaurants.
Off the beaten track
If you want to veer away from the beaten track, there are many top class restaurants located around Plaça d'Espanya. Eating with the locals means you'll find fantastic food at some remarkably reasonable prices. For tapas or a heartier Spanish inspired meal, head to streets like Carrer del 31 de Diciembre and Carrer de Blanquerna, each featuring some top restaurants.
The gastronomic district
Alternatively, if you're hungry for some international yet innovative cuisine, then the trendy area of Santa Catalina will certainly hit the spot. Here you'll find anything from modern tapas and homemade Italian to South American and Asian fusion. Due to the number of restaurants popping up in this area, there's a high level of competition which makes both the quality and prices equally good.
The best seafood in town
After more traditional seafood and a traditional Spanish paella? Make your way to the seafront by venturing towards Portixol and Molinar, only 3km from the cathedral. These traditional fishing ports offer up some of the best paellas on the island.
Nightlife in Palma de Mallorca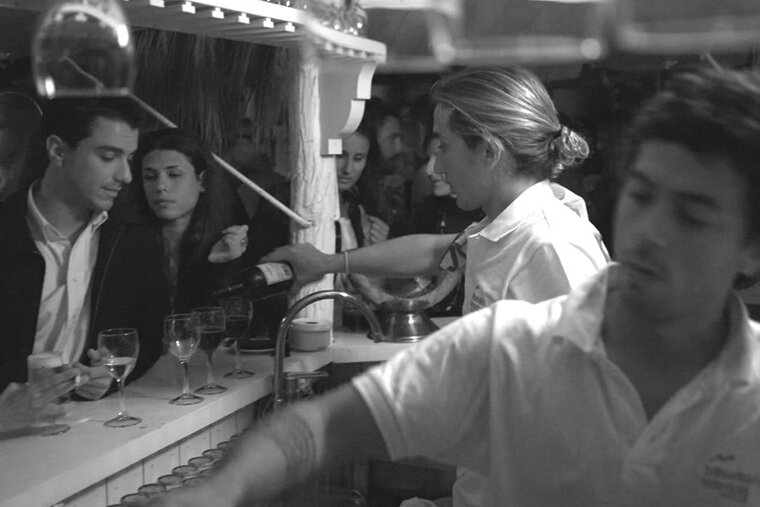 Palma plays host to the widest range of bars and nightclubs on the island. The beauty of this city is that you'll see visitors and locals partying alongside one another until the early hours of the morning.The areas of La Lonja, Santa Catalina and the Paseo Marítimo are the main places to rendezvous.
La Lonja (The old town)
La Lonja is at the heart of the city's nightlife during the evenings. Whether it's late night restaurants, pubs, cocktail bars or jazz clubs you're after, you'll find something to tickle your taste buds. Be sure to check out hotel bars and sky bars too as they offer some of the best cocktails in the city centre!
Santa Catalina
Santa Catalina is swarming with people in the evening whatever the time of the year. A number of watering holes in the form of late night bars that locals, expats and tourists like to frequent reside here. It's also where you'll find the yacht crews hanging out, especially along Carrer de San Magí.
Paseo Marítimo
The Paseo Marítimo (the front by the marina) is absolutely buzzing when the warm nights set in from June until September. This area makes for the perfect night out on the tiles thanks to its restaurants, late-night bars and a couple of large-scale nightclubs. For those who like to party until 05:00, the main club to call is Tito's. You won't miss it!
An insider tip for those who will venture a little further: at the far western end of the seafront promenade, towards the cruise ships port, there is a small marina called Can Barbara, which encompasses some late night bars popular amongst the locals. Speaking of local experiences, try the area to the east of Plaça Major for a host of quirky, independent late-night late-night cafes and bars full of local youngsters. All very Barcelona!
Where to Stay in Palma de Mallorca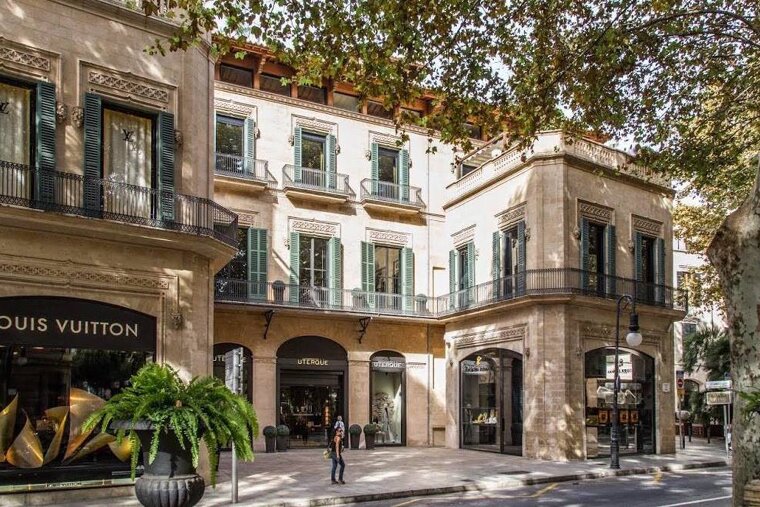 Luxury boutique hotels
A large proportion of people visiting the city centre tend to stay in hotels. Palma has seen an explosion of boutique hotels in recent years which attract visitors all year round. Old historical palaces have been restored with the utmost care, retaining original features and introducing all the modern technology we expect nowadays. Most of these hotels can be found in the tiny streets around the cathedral area.
Stay in the old town of Palma to be bang smack in the middle of the hustle and bustle of the city centre, with shops, restaurants and nightlife on your doorstep. There's a great selection of hotels available in this area, suitable for a wide range of budgets. Keep your eyes peeled for those in the districts of La Llonja, Passeig des Born, Avinguda Jaume III, Sant Nicolau, La Calatrava, around which the city's fabulous boutique hotels concentrate.
Hotels with a view
In the hotels along the Paseo Marítimo, what you lose in character, you gain with sea views. This area is perfect for those who might feel a bit claustrophobic staying in the city centre but still wants to be within easy walking distance of all the attractions on offer. This stretch offers hotels with larger, more corporate accommodation and modern comfortable hotels for those simply craving a room with a balcony and a sea view. These establishments will certainly quench your thirst for some sunshine and water. Alike to the city centre, here you are perfectly situated for exploring Palma without the need for travelling by transport.
Hotels with wide-ranging facilities
There are also plenty of opportunities to stay on the outskirts of Palma. With numerous hotels dotted around with outstanding spa facilities, swimming pools, tennis courts, gyms and even golf courses. These are perfect to experience the best of both worlds, being within close proximity of the city but having access to all the facilities one could ever want for. Many of these hotels also offer a free shuttle service to the city centre.
Villas
In these same suburbs, you will find a number of holiday rentals or villas which are more appropriate for those looking for a home away from home style of accommodation. These are great for large groups in need of numerous bedrooms and usually have the luxury of a private swimming pool.
Apartments
Whilst the villas tend to be located on the outskirts of the city, there are more and more holiday apartment rentals popping up in the city centre for smaller groups. Due to the variety of sizes and them being slightly less expensive than hotels, these are becoming a favourite choice for a wide range of people from couples to small families and groups.
Discovering the different areas of Palma
The striking seafront
The first thing you will notice when you arrive in Palma from the airport is the fabulous marina and seafront, perfectly accompanied with a palm tree-lined promenade. Dominating the skyline by the sea is the iconic cathedral (called La Seu) and the Parc de la Mar, a large park in front of it which hosts many concerts, fiestas and open-air cinema throughout the year.
The charming old town
After arriving in Palma, the old town is probably the best place to start as a visitor. You can begin at the cathedral and along Passeig des Born as it's not only picturesque but easy to navigate. At this point, you can't help but be impressed with the city has to offer. This grand avenue features high-street and designer shops to cater for everybody's needs. From here there are a few options, follow the road around to the right onto the tree-lined promenade of La Rambla, home to florists and newspaper sellers, or onto Avinguda Jaume III for further shops and stunning architecture.
Alternatively, once you have your bearings and are keen to explore the ancient passages, head slightly west of Passeig des Born. Here you will find the quaint, ancient district of Sa Llotja (or La Lonja), which is home to some of Palma's finest boutiques, art galleries and Spanish restaurants. If you decide to venture east of Passeig des Born, you'll find gift shops, fashion boutiques, shoe shops and cafes. On this side also lies Plaça Major, which holds markets featuring arts and crafts and other touristy trinkets. This area encompasses Plaça Cort where the handsome Mallorcan Town Hall resides, and another popular shopping street called Sant Miquel. You will also likely stumble upon the Olivar Market, a traditional Spanish undercover market selling all sorts of fresh produce.
Trendy Santa Catalina
Santa Catalina, which used to house fishermen and craftsmen in days gone by, has now resurrected itself as the hip and trendy area for all the cool kids. In the daytime, it's home to eclectic shops and boutiques, from interior design to dresses. Here you'll find yet another undercover food market called 'Mercat de Santa Catalina' which is worth a little peep inside if you are in the area. However, it's highly recommended you make a visit to Santa Catalina once the sun has gone down since it has become known in recent years for its thriving nightlife due to the number of trendy bars, clubs and contemporary restaurants popping up. Aim to start at Carrer de Argentina, which is easy to find from the seafront, and stroll around the roads between Carrer de San Magí and Carrer de la Fàbrica. This is the place to go for modern, yet relaxed, food and cocktails.
Location
Palma de Mallorca, Mallorca