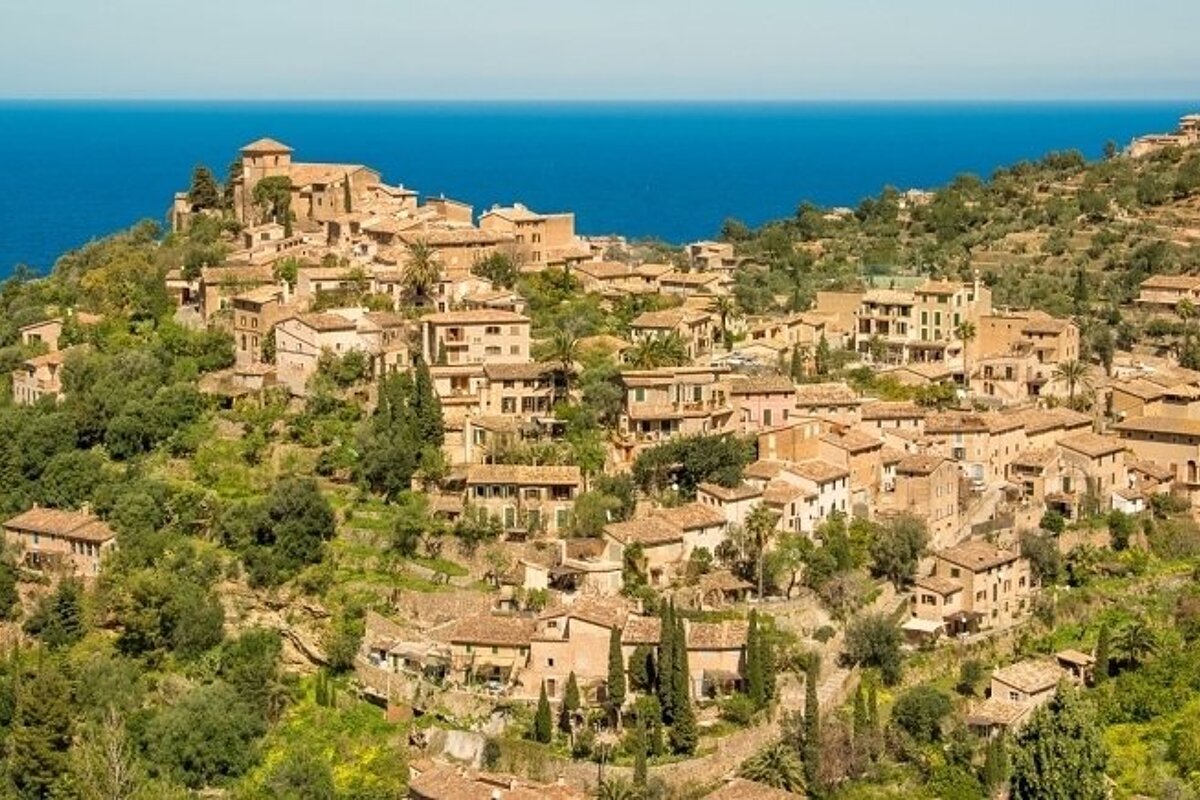 Destinations in Mallorca
Discover the top destinations in Mallorca
Explore some of the beautiful towns and villages in Mallorca. Hire a car, set out on foot, take a bus, or borrow a bike. Any which way will do!
Mallorca is a fairly big island, with many interesting places to visit. At the same time, almost anywhere you based is 1-1.5hrs drive from almost any other spot you'd like to take a look at! The main towns and villages on the island are listed further below. They all have their very own, distinctive character, from the lively resorts of Port d'Alcudia, Cala d'Or and Santa Ponsa to the stunning towns of Valldemossa and Deia or the sleepy villages of Inca and Orient. Here is our shortlist of the most popular towns and villages to visit in Mallorca.
Popular Towns & Villages in Mallorca

Where
Beach Resorts
Pretty Villages
North
Port d'Alcudia, Port de Pollenca
Alcudia, Pollenca, Sineu
East
Cala d'Or
Alcudia, Andratx, Arta, Deia, Fornalutx, Pollenca
South
Illetas, Magaluf, Palma Nova, Portal Nous, Santa Ponsa
Santanyi
West
Andratx, Port de Soller
Fornalutx, Soller, Valldemossa
Read our separate guides to Palma de Mallorca and the best Markets in Mallorca.
Must See Towns & Villages in Mallorca
Mallorca is most famous as a beach holiday destination but those who take the time to explore the island in more detail will be pleasantly surprised at the depth of its beauty.
The towns and villages have a lot to offer the more inquisitive visitor. Picture pedestrianised cobbled streets featuring pretty blonde stone story book houses complete with green shutters, magnificent churches, historical landmarks and of course enchanting squares with cafes and restaurants with large terraces to indulge in some alfresco dining. These are some of the most common features of Mallorca's must see towns and villages.
West Mallorca
The Sierra de Tramuntana mountain range and its surrounding area is home to some of the island's most treasured towns and villages. They each boast an impressive mountain backdrop and claim exciting hiking trails and cycling routes on their doorstep. It would be a sin not to pack some active wear and walking boots if you are heading to this part of the island.
Fornalutx is heralded to be one of the prettiest villages in the whole of Spain. There's a sense of the old Mallorca when visiting the small settlement, hidden deep within the mountains. Have your camera at the ready as you stroll around because there are many picture worthy moments. We recommend grabbing a coffee or ice cream at Cafè Sa Plaça in the main square next to the ancient olive tree. Also do keep your eyes peeled for the local bakery Panaderia de Fornalutx, a local gem.
Another photogenic mountain town is Valldemossa, which today is teeming with day trippers who are particularly keen to see the cell in the Royal Carthusian Monastery where legendary composer Chopin notoriously spent a winter and completed his best work. There's a wildly romantic charm in the air in Valldemossa and many enjoy getting lost in the labyrinth of cobbled streets filled with plant pots. A handful of restaurants and cafes service the town, with QuitaPenas Valldemossa being a firm favourite for its local tapas. Boutique shops and art galleries sell art, handmade crafts, tasteful interior decor and Mallorca's famous pearls. We would recommend visiting Valldemossa in the winter to get the town to yourself!
Deia is another beauty spot widely known as a bolthole for creatives. Famous artists, writers and musicians have illustriously congregated here for decades gone-by. Today the real estate comes with a hefty price-tag, and many of its residents are the well-heeled sort. It's possible to explore some of Deia's history with a visit to Robert Graves House where patrons are offered insight into the poet and author's life and inspiration. The house and gardens remain as they were when he was alive. A short walk down to Cala Deia is a must. Large boulders and crystalline waters await, along with an idyllic setting for some seafood dining at C'as Patro del March restaurant. If your purse strings allow, book a room (or do lunch, afternoon tea or dinner) at world renowned hotel Belmond Residencia, once owned by Richard Branson.
Banyalbufar clinging to the craggy western coastline is celebrated for its ancient terraces cultivated by the notorious moors who once ruled the island. It stands out from the crowd due to its dramatic vistas of these terraces climbing down to the shimmering blue sea. Scenery that will certainly leave a mark in your memory! There's also a watch tower just outside of town called Torre des Verger, known to be one of the best preserved on the island. Otherwise Banalbufar remains one of the most authentic Mallorcan villages on the West coast of Mallorca and has a selection of breathtaking hiking trails on its doorstep. 1661 Cuina de Banalbufar serves some Mediterranean style cooking and is one of our favourite places to dine here.
The arty town of Soller sits within a valley at the foot of the Serra de Tramuntana mountain range, just a few kilometres from the coastline and Port de Soller. Citrus fruits made this town both well-known and wealthy, and today orange juice, confits and lemon and orange ice cream can be found on every street corner. Soller's gothic cathedral Iglesia de Sant Bartomeu dominates the main square and is commonly featuredon postcards of the island. A selection of museums, art galleries and quirky boho style boutiques are worth a look. Other than its beauty and citrus fruits, the vintage train operating between Soller and Palma, and the vintage tram service operating between Soller and Port de Soller attract a number of tourists year-round. If tapas is high on your hit list then we recommend a visit to Can Pintxo.
North Mallorca
Pollença is a scenic Spanish town embroidered with centuries-old history. Plaça Major dominated by a large 13th-century church has numerous outdoor cafés, perfect for sitting and watching the world go by. One of the town's most remarkable features is the 365-step stairway to the north of the square; this leads up to a historic chapel known as Calvary. History enthusiasts are always keen to set their eyes on the Pont Romà (Roman bridge) on the edge of town. The Convent and Cloister of Sant Domingo built between 1588 and 1616, is also an elegant piece of architecture hosting a spectrum of cultural events throughout the year. There are a number of dining options available serving some great Mediterranean cooking. If in town for the day, Celler el Molί is a firm favourite for its affordable three course lunch menu.
On a visit to the ancient walled town of Alcudia one is likely to be pleasantly surprised. Behind the old 'city' walls, a maze of pedestrianised cobbled streets await, along with a selection of restaurants and souvenir shops. Guided tours are available for those keen to delve deeper into its history; with remains of one of the smallest roman theatres in Spain, 16th century palaces and the 19th century neo-gothic church of Sant Jaume featuring on the menu. C'an Costa is the oldest restaurant in town and is the place to sample traditional Mallorquin food – think hearty stews, stuffed vegetables, rice and fish dishes.
East Mallorca
We would recommend visiting the town of Arta on a Tuesday to see the town and its offering in all its glory. For this is when it hosts its weekly market, with a long history specialising in basket weaving and pottery goods. Aesthetically the town has managed to stay relatively untouched by tourism. Highlights include the medieval fortress walls of the pilgrimage Church of Sant Salvador which stand above the town. A visit to the Regional Museum of Arta will allow you to learn about the areas history with artefacts dating back to Roman times. Do allocate an hour of time to visit the Caves of Arta on the outskirts of town and prepare to be mesmerized. For an epic dining experience visit Gaudi Restaurant, which sits within a historic palace, serving modern Mediterranean cuisine.
Capdepera is a modestly quaint medieval village in the East of Mallorca. The 14th century castle dominates the landscape and will be etched in your mind after a visit. We recommend strolling around the town and soaking up the historical architecture, but the Church de Sant Joan is an important point of interest for historians. Cova Negra Restaurant should be on your radar for delicious Mediterranean plates in a gourmet setting.
South Mallorca
Santanyi is a historic, yet beautifully polished rural town, famous for the cultivation of Mallorca's famous blonde stone. Today it is a hub for international artists, which is emulated in the selection of tasteful galleries, workshops and interior décor shops scattered around the town. The 18th century Church of Sant Andreu can be seen for miles and is the town's defining feature. Porta Murada (an old gate) is also an important piece of history for the town's residents as it acts as a reminder of the town's troubled past with pirates. The choice of good-quality international restaurants here makes it a foodie haven. Es Cantonet is a cosy traditional restaurant with top quality homemade food and a renowned tasting menu.
This is just a selection of Mallorca's best bits we confidently feel should be on anyone's bucket list on a visit to Mallorca. There are dozens of small villages and towns waiting to be discovered so hire a car or rent a bike and take a tour at your own leisure.
Foodies Towns & Villages in Mallorca
There's never been a tastier time to eat on this Balearic island. The city of Palma takes the crown for its forward thinking and cosmopolitan restaurants and even hosts some world-renowned addresses thanks to Michelin star chefs who have made their mark here. At the same time, many of the towns and villages on the island take pride in their restaurants and gastronomic offerings. Read on for the mouth-watering details.
Mallorcan Cuisine
If you are a culture vulture looking to tuck into traditional Mallorcan fare, we would suggest heading away from the typical resorts. Inland towns and villages claim the best restaurants serving authentic Mallorquin specialities like frit Mallorquín (fried lamb innards), cargols (snails) and arros brut ('dirty' rice).
Inca is a typical working town, away from the usual tourist trail and is a treasure trove when it comes to restaurants utilising seasonal produce. People travel from all across the island to visit its famous celler (old wine cellar) restaurants. Celler Can Amer housed in a 17th century wine celler, offers a refined service and has won awards for its traditional cooking and impressive selection of local wines. The suckling pig, shoulder of lamb and a confit of cod are just a few of its specialities. Restaurante Celler Can Lau offers a more rustic affair with home-cooked, hearty style of food. They are known for their caragols (snails) amongst other things. Restaurante Celler Ca'n Ripoll is another firm favourite, the 'menu del dia' keeps it busy throughout the year, but the charming terrace is especially popular in the summer months. Alternatively, there's also the unassuming, traditional and rural village of Algaida which is in possession of some wonderful hidden gems that serve up no-frills, hearty home-cooked feasts. Rub shoulders with the locals at Ca'l Dimoni and encounter an all-round timeless experience.
Seafood
If seafood is on your agenda, then Mallorca's coastline is the best place to find some freshly caught local treasures. Whether your maritime fix will be satisfied by prawns, clams, octopus, seabass, or even a famed Paella, Mallorca will deliver.
The latest catch can be found in the ports, and for us Port d'Andratx is a top pick. From the picture-postcard setting these restaurants enjoy along the promenade, through to the quality and endless choice of restaurants serving fresh fish, it has it all! Walking along the promenade, the smell of frying fish will tempt you in! If you can make it to the far end of the promenade before being drawn in, Rocamar is well worth the wait. It has a loyal following amongst those living on the island, due to its unwavering quality and unparalleled service. Alternatively, Marisqueria Galicia is an old favourite, it offers a rustic setting and a friendlier price point for its offering and has a loyal following from locals.
A batch of quality seafood restaurants reside along the seafront in the pretty horseshoe shaped bay of Port de Soller. Keep your eyes peeled on the menu for Soller Prawns, as they are an island treasure and should be on any seafood lovers bucket list. The traditional style Restaurante Ses Oliveres nestled along the seafront has been a well-received for many years, and serves paella, prawn carpaccio, anchovies and andalusian style squid. Kingfisher Restaurant has a more modern flair and receives top marks time and time again for its quality of food, presentation, service and magnificent views over the harbour.
International Cuisine
The swanky ports attract some of the world's wealthiest humans to their destination restaurants. So it goes without saying that these serve up some of the best international cuisine on the island, complete with first class service and exceptional views overlooking the luxury yachts.
The glamorous Puerto Portals has a choice of international cuisine, Mediterranean, Asian, Indian – you name it, it's here. They tend to have the following in common - first class service, glitzy clientele and dreamy terraces looking out over the marina. You need not look far to find quality seafood, without a doubt Flanigan has long been established as the King of the Sea here, you will find fresh fish, traditional Paellas and more. Ritzi is a long-standing favourite for classy Italian cuisine, and also brags a great al fresco style bar perfect for a pre or post dinner tipple. Whilst 2 Michelin Star chef Fernando P. Arellano has designed a wonderful menu at Baiben with Mediterranean and Latin-American flavour, and last but not least Tahini is without a doubt one of the best Japanese restaurants on the island.
Port Adriano is another port that is favoured for its gastronomic offering. Coast by East claims the idyllic position at the end of the Philip Stark designed marina overlooking the mega-yachts, and delivers a fusion of Asian-Mediterranean cuisine. We especially love its Robata style dishes! A taste of Italy is easy enough in this port, as Italian restaurants are plentiful, with Trattoria Vino del Mar positioning itself as the gourmet Italian restaurant whilst La Oca offers a family friendly, relaxed vibe.
The handsome blonde stone capital of Santanyi is home to a vibrant artistic community, emulated in its restaurant settings. In recent years, there have been some impressive additions to the town so it has made it onto our list of top towns and villages for foodies. From traditional Mallorquin cooking, authentic Italians, international fine dining establishments alongside specialist vegetarian alternatives, this town has it all! Here are a couple of names to keep an ear out for. For tapas Es Molí is a must, and we simply love its position within an old mill. East 26 Restaurant wins for its splendid courtyard setting and crowd-pleasing menu, the latter also has a fabulous 'menu del dia' offering which changes weekly.
As far as tourist resorts go, Cala d'Or makes an impression for its food offering and warm hospitality! Like most resorts, the restaurants are open during the summertime only, so April-October and a whole host of cuisines are available. Restaurant Diferent serves up innovative tapas and age-old favourite Spanish plates alongside some modern international additions to the menu. Meat Club is the place for hard carnivores, you won't find a better T-Bone steak in this part of the island. Restaurant Soy is where it's at for an Asian feast, its décor and sushi boats are Instagram worthy every time and whether it's a pad-thai or a sushi extravaganza you are after, the kitchen takes great pride in their food, making it a delicious adventure every time.
We are just giving you a taster of some of the island's best bits, so do take a look at our restaurant listings to find out more about the restaurants in your area.
Fiestas & Fairs Towns & Villages in Mallorca
Mallorquin folk are particularly proud of their fiestas and fairs and without a doubt, the capital of Palma hosts some of the islands biggest and best events in the annual calendar, however each town and village seems to specialise in one tradition or another.
Below we have highlighted some of our favourite events; so do keep an eye on our events calendar for more information.
Pollenca claims one of the biggest historical fiesta's on the island with La Patrona in August, as locals commemorate the long history of invasions by Moorish pirates. The main event is a mock battle re-enacted by thousands of residents. It's compulsory to dress up as either a Christian (in white) or pirate. Wine enthusiasts should try and attend Vi Primitiu Wine Fair, a wine tasting event that takes place in the beautiful Claustre del Convent de Santo Domingo in Spring time - a wonderful opportunity to sample from dozens of vineyards across the island. In Autumn the town's Fira d'Artesania is a great place to pick up local artisan products.
Valldemossa has been an inspiration to a string of international artists and musicians, many of whom have famously created some of their best work whilst residing in the town. Therefore it should come as no surprise that a selection of highly regarded musical and art festivals feature in its calendar. Many visitors fly in for the Chopin Festival in August to enjoy first class classical music performances within the magical setting of Valldemossa's Real Cartuja Monastery. Renditions of Chopin's famous works alongside other international legends are a major attraction. The town's Artdemossa is a midsummer affair where the village pays tribute to artists on the island. Visitors can feast their eyes on a spectrum of arts, including sculptures, paintings, photography and music.
Port de Soller is a centuries old fishing village and its locals embrace its history. Centuries ago it was a popular spot for Moorish pirates trying to land on Mallorca. Each year Port de Soller hosts its own interpretation of a Moorish invasion in 1561 with Es Firó (Moors vs Christians Festival), celebrations take place over a long weekend in May in both Soller town and Port de Soller and is a wonderful time to visit. In the peak of summer, Port de Soller celebrates it's patron saint, Saint Bartholomew, with a spectacular fire display on the 24th August which is well worth a watch. The annual Classical Music Festival of Port de Sóller is a popular rendezvous for music lovers, as first class international artists perform in the unique setting of a converted chapel in the former Santa Catalina monastery.
Santanyi oozes history and charm and is famous for its ancient blonde stone. It's known for its vibrant Sant Jaume festivities in July, where the town comes alive with traditional parades, workshops, sporting and music events. The main event is a parade of giants on the 24th July, followed by a concert. This town also makes a special effort for the island-wide celebration of Sant Antoni on the 17th Janaury each year, as they celebrate with a procession of animals being blessed, a great day out for the kids in particular. Canal'Art is an evening extravaganza of art, where the town's art galleries, bars and shops all around Santanyí display contemporary art for an evening. Santanyi also celebrates an International Music Festival throughout the summer months (between April and September), bringing some critically acclaimed international musicians to the town.
Inca is one of the largest towns on the island and has remained relatively untouched by tourism which means when you visit the town during one of its fiesta's or fairs, it feels truly authentic. Most notably, Mallorca's largest traditional festival known as Dijous Bo takes place in Inca in November, and people travel from all around the island to celebrate local crafts and cuisine. July sees Inca Jazz Festival bring in crowds of jazz lovers to the historical building of Claustre de San Domingo with numerous shows taking place throughout the month.
Binissalem is home to Mallorca's most famous wines, and in September during grape harvest the locals celebrate with an annual grape festival known as Festa des Vermar. This event is a great one for wine enthusiasts keen to immerse themselves in the island's viniculture. You can expect street dinners, parades, wine tastings and an iconic grape stomping competition.
This is just a selection of towns and villages we feel stand out from the crowd for their fiestas and fairs, but if you are a culture connoisseur then there are plenty of other towns and villages hosting their own special fiestas and fairs. Many pay homage to the products that they specialise in; for instance Campos celebrates Sobrassada with its Sobrassada Fair in October and Son Servera hosts an Almond Blossom Fair in February. Or if you want to be transported back in time then perhaps Capdepera's Medieval Fair in May is a great day out for the wh0le family to enjoy. There are too many to mention, so do take a look at our events calendar for more information about the island's upcoming events, big and small!
Market Towns & Villages in Mallorca
The weekly markets taking place around Mallorca offer the opportunity to sample some authentic Mallorcan culture. Whether it be to soak up the atmosphere, to jostle with residents for the best local produce or buy some unique souvenirs. Food is always important at these markets, from fresh fruit and veg, to artisan cheeses, cured meats and local honey. Also wonderful Mallorquin handmade local products made from olive wood, leather goods, ceramics, textiles and jewellery. All the markets on the island start early in the morning and close at lunch time. Being a morning event, a pit-stop at a local café for a café con leche and croissant or pan con tomate is an absolute must.
Authentic Markets
Without a doubt, for an authentic Mallorcan market Sineu hosts the biggest and best, so pencil Wednesday morning in your diary. This market is a bit of an institution, with locals singing its praises to anyone who will listen. You will find a maize of streets thronging with people browsing the hundreds of stalls around the town. It sells everything - including livestock! Otherwise Santa Maria del Cami market on Sunday is another traditional market on a slightly smaller scale where you can rub shoulders with the locals and a truly authentic feel.
Best Market Squares
The best market square atmosphere can be found in Pollenca on a Sunday. To be honest, this market wins for its setting and all-round experience, and stands out from the crowd due to the buzz in the main square. Soller market on a Saturday also offers a picture-worthy buzzing market square with a gothic cathedral lurking in the background, and ample cafes with outdoor seating where many locals sit and watch the world go by.
Specialist Markets
Arta market on Tuesdays has got an upmarket boho Ibiza-esque vibe, and is the best place to scoop up some of Mallorca's famed textiles and hand-crafted straw bags.
Of course, there are many, many more markets to explore on the island; practically every town and village has its own market, but these are some of our top picks.